10 year programme - £1 billion investment - 20,000 high value jobs
Sec. of State, Karen Bradley, has given go-ahead for £350m city deal for Belfast [Belfast Telegraph 26 March 2019]. Joint venture that includes 6 councils, 4 colleges, and the 2 universities in the east of NI. Work continues on deal for Londonderry.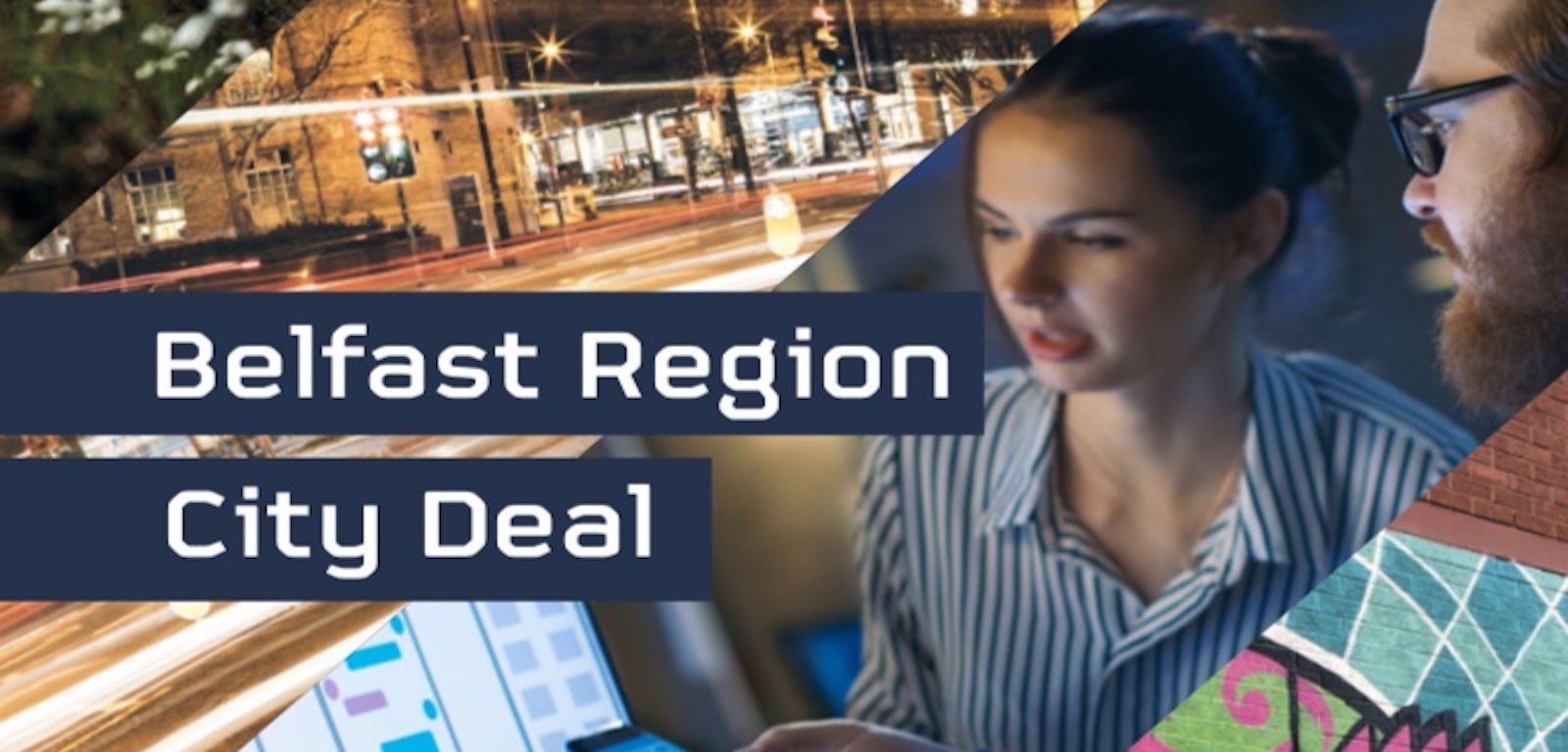 The Belfast Regional City Deal submission[1][2] describes a 10 year programme built on three pillars, i.e., innovation and digital, tourism led-regeneration, and infrastructure. The goal is to attract £1billion from contributors that include the Treasury, NI Executive, participating Councils, and private investment, with the prediction that 20,000 jobs could be created.
The submission includes a proposal to create an Advanced Manufacturing Innovation Centre (AMIC);
"...operate at the interface between academia and industry; accelerating new technology developments through the innovation phase and ensuring that real industrial challenges based on market need are solved through collaboration with the best university research..."

The submission also includes a proposal to create a Digital and Innovation Platform and Partnership (DIPP);

"...shared physical and digital environment where the academic research community, tech entrepreneurs and industrial partners will come together to address key challenges in business and society through the application of the IoT and data science..."
Background
History of City Deals [3]. Between July 2012 and August 2014, 26 City Deals were agreed. The first wave, completed in July 2012 covered the 8 largest English cities outside London; the second wave, completed in July 2014 covered the next 14 largest English cities and their wider areas, as well as the next 6 English cities and areas with the highest population growth between 2001 and 2010. In a one-off deal in August 2014, Glasgow and the Clyde Valley became the first area outside England to agree a deal. In 2016, deals were agreed with Aberdeen, Cardiff and Inverness. In 2017, deals were agreed with the Swansea Bay area and Edinburgh and South East Scotland. In 2018, a deal for Stirling and Clackmannanshire was finalised. Deals for Tayside, Belfast City Region and the Derry City and Strabane District Council area are in progress.

References
[1] City deals are bespoke packages of funding and decision-making powers negotiated between central government and local authorities and/or Local Enterprise Partnerships and other local bodies.
[2] Belfast City Council. "Belfast Region City Deal". [on line]. Available at <http://www.belfastcity.gov.uk/buildingcontrol-environment/regeneration/city-growth-deal.aspx>. Accessed 2000hrs, 19 March 2019.
[3] House of Commons Library. "City Deals". [on line]. Available at <https://researchbriefings.parliament.uk/ResearchBriefing/Summary/SN07158>. Accessed 2000hrs, 19 March 2019.