People who advance intelligent control and automation sciences assemble in Queen's
The Centre for Intelligent Autonomous Manufacturing Systems at Queen's University Belfast hosted the 5th IFAC conference on Intelligent Control and Automation Sciences (ICONS 2019) 21 -23 August 2019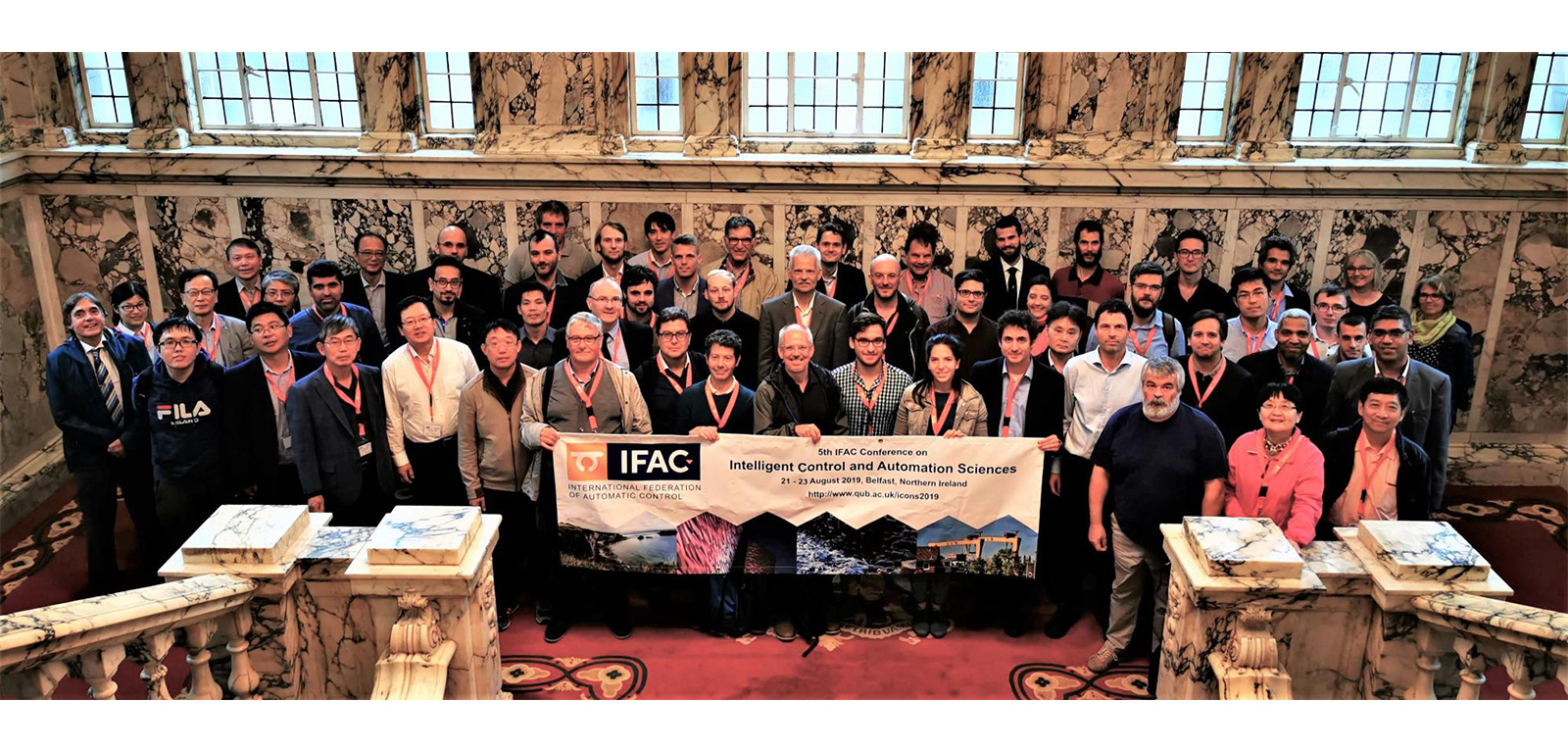 The IFAC [1] conference, which was sponsored by it's Computational Intelligence and Control Technical Committee (TC3.2)[2], had as it's theme Intelligent Control and Automation Sciences (ICONS 2019)[3]. Scientists, researchers, and practitioners had an opportunity to exchange knowledge and perspectives in the field of intelligent control, automation science, engineering, and its integration into industry and society.

The conference was opened on the 21st August by IFAC President, Professor Frank Allgöwer, University of Stuttgart, who addressed;
'Current trends in model predictive control'
This was followed by a rich three day programme when key topics were explored through plenary talks and technical presentations.
Plenary talks
The delegates benefited from plenary talks by:-
Professor Robert Babuska from Delft University of Technology;

'Nonlinear Control Design Through Reinforcement Learning: Challenges and Open Issues'

Professor Manuel Giuliani from the Bristol Robotics Laboratory;

'Embodied Cognition for Human-Robot Interaction'

Dr Coorous Mohtadi from Mathworks;

'Are you ready for AI? Is AI ready for you?'
Technical presentations
The technical programme included the presentation of 46 papers, which covered the latest research in areas such as:-
robotics and autonomous vehicles
fault detection diagnosis and fault-tolerant control
advanced manufacturing and industrial control
machine learning and human-centric applications
learning and control
modelling and identification
nonlinear control and applications
advances in fuzzy model-based design
IFAC Young Author Award
The winner was Mert Ergurtuna, Middle East Technical University, Turkey, with a paper entitled;
'An Efficient Formula Synthesis Method with past Signal Temporal Logic'.
The runner-up was Christopher Reinartz, Technical University of Denmark with a paper entitled;
'Generation of Signed Directed Graphs Using Functional Models'.
Thanks from Conference Chair
Professor Seán McLoone, Conference General Chair, wishes to thank the many volunteers who assisted with conference logistics, and all the conference sponsors, which included Visit Belfast, Belfast City Council, Mathworks, Elsevier, and the Centre for Intelligent Autonomous Manufacturing Systems (i-AMS)[4] at Queen's University Belfast.
Reference
[1] International Federation of Automatic Control. Available at <https://www.ifac-control.org/>
[2] IFAC, TC 3.2. Computational Intelligence in Control. Available at <https://tc.ifac-control.org/3/2>
[3] 5th IFAC Conference on Intelligent Control and Automation Sciences (ICONS 2019). Available at <http://www.qub.ac.uk/icons2019/>
[4] Centre for Intelligent Autonomous Manufacturing Systems. Available at <https://www.qub.ac.uk/sites/iams/>