Our students come from a diverse range of backgrounds and experiences.
We offer a service that is welcoming and supportive of the needs of all students, and we are here to help with any advice or information. If you require additional support or guidance with your application to, and path to university, we have a range of resources and support detailed below.
Academic Collaboration with Partner Colleges

Queen's works closely with local partner Further Education colleges so that students studying HNC or HND courses at college can articulate seamlessly to Queen's degree programmes, and start in year two of a degree.

If you don't get the grades to get straight into university, you don't have to move away from Northern Ireland. There are plenty of options right here.

Deferred Entry

Most courses, except Nursing, Midwifery and Social Work, are happy to consider applications from students wishing to defer their year of entry. If you apply for deferred entry, you should tell us what you plan to do during your Gap Year in the personal statement section of your UCAS application.

Pathway Opportunity Programme

The University's Pathway Opportunity Programme provides a route for talented young people from Northern Ireland who have the ability to study at Queen's, but may require additional support and encouragement, due to their background, to reach their full potential.

During Years 13 and 14 Pathway students participate in a series of events focused on increasing their knowledge and skills within a subject specific Pathway with the addition of admission guidance and support. The overall programme also includes a week long residential summer school which concludes with a piece of assessed coursework. Upon successful completion of the programme, students receive either a guaranteed conditional offer or a guaranteed interview to study at Queen's in a designated Pathway course. In addition, the summer school assessment can lead to a reduced admissions offer which may be up to two A-Level grades lower than the standard offer depending on the student's performance on the programme and the course applied to.

For further information please contact Pathway Team at: pop@qub.ac.uk.
Disability Services

The University welcomes and encourages applications from students with disabilities or long term conditions. Applications are considered on the same grounds as non-disabled applicants. An individual's disability or long term condition will not influence the University's decision to offer a place.

On receipt of an offer from the University, applicants who have disclosed a disability or long-term condition can register with the University's Disability Service to receive academic support for their studies. Applicants in receipt of an offer should refer to Disability Services for guidance on the next steps in the process.

The information provided by applicants will be used to assess the individual reasonable adjustments that they should receive if they are accepted and placed on their chosen course at Queen's.

Please note: If you did not disclose a disability or long-term condition on your application and wish to do so, please contact the service directly by emailing: disability.office@qub.ac.uk.

Where it is anticipated from the information provided that the applicant will require significant support or will require modifications to the academic course, they will be invited to meet staff from Disability Services and relevant members from the academic School to discuss the applicant's individual needs.

In a small number of cases where there are fitness to practise concerns or where reasonable adjustments may not be feasible to implement (which may arise as a result of the disclosure of a disability or long term condition after an offer of a place has been made or after a place has been taken up), advice will be obtained by Disability Services from the School, the University's Occupational Health Service and appropriate external agencies to ensure every reasonable effort is made to support the student in taking up their offer on their chosen course at Queen's. Following these discussions, staff from Disability Services and the School will offer to meet with the applicant to discuss the support available to enable them to make an informed judgement on the suitability of the course. In the exceptional and unlikely event where fitness to practise issues remain a concern or reasonable adjustments cannot be implemented, the University reserves the right to withdraw an offer or withdraw the student from their course.

The University recognises that the decision to disclose a disability or long term condition is a personal one, although it is recommended that applicants do so as early as possible to support the timely implementation of agreed reasonable adjustments. If a disability or long term condition is not disclosed until a later stage, the University will endeavour to make any adjustments required before the start of the course, but it may not be possible to have everything in place before this.

Applicants who wish to appeal a decision not to implement adjustments requested which prevent the applicant from taking up their offer of a place on a course may write to the Director of Academic and Student Affairs to request a review of the decision. For further information please refer to the University's Student Disability Policy at: qub.ac.uk/directorates/sgc/disability.

If you need any advice about disclosing disability, or the arrangements which we can make, please contact: If you need any advice about disclosing disability, or the arrangements which we can make, please contact:

Disability Services
t: +44 (0)28 9097 5250
e: disability.office@qub.ac.uk

Applicants Returning to Education

Queen's also welcomes applications from students who are returning to education. Each case will be considered on its individual merits and modified entrance targets may be set.

Life experience is not in itself sufficient grounds for admission and we require evidence of recent academic study (normally within the last five years) at a suitably high level which has led to positive results. The qualifications most frequently offered by such applicants are Access Courses, A-levels, BTEC Extended/ National Extended Diplomas/ Higher National Certificates and Diplomas, Foundation Degrees and Open University credits. It is our experience that applicants stand a better chance of succeeding on their course if they have been able to acquire or improve skills of reading, analysis and writing beforehand.

While many subjects can be taken from scratch at university level, there are others, particularly in Science and Engineering, where considerable background knowledge is essential. For this reason, it is understandable that the majority of students who have entered university from this background are to be found in humanities and social science subjects.

Please be aware that undertaking a period of full-time study can have serious implications. Think it through carefully. It is a good idea for applicants to get some guidance and counselling from organisations such as nidirect (nidirect.gov.uk) or from the University's Careers, Employability and Skills service (qub.ac.uk/careers), in order to establish where their best interests and chances of success lie. We would also encourage applicants to contact the Admissions and Access Service (admissions@qub.ac.uk), who will be happy to provide advice.

Applicants with a Criminal Record

The University acknowledges the key role of education in the rehabilitative process and a criminal record will not preclude an applicant from being offered a place at the University. However, some programmes are exempt from the Rehabilitation of Offenders Act and students are required to disclose all spent and unspent convictions. If a programme is exempt from the Rehabilitation of Offenders Act an applicant will be asked by UCAS (UG students) to declare the information as part of their application to the programme. It is an applicant's responsibility to check any specific programme requirements. Failure to disclose could jeopardise a student's enrolment status.

There are also specific disclosure requirements for courses leading to membership of a profession/ professional body and/or for Fitness to Practise considerations. These requirements normally include disclosure of spent and unspent convictions and may also include disclosures concerning health. Again, it is the student's responsibility to comply with relevant professional body standards. The University will investigate the criminal record of a new applicant only if the primary selection criteria for a programme have been met, these relate to qualifications, skills, abilities and personal qualities of an applicant. All applicants to courses where their studies will involve interaction with vulnerable groups will be required to give permission for an enhanced AccessNI (ANI) check (or suitable alternative in the case of international students) to be carried out. AccessNI is part of central government and operates under the provisions of Part V of the Police Act 1997. Information on the University's procedure for the Admission of Applicants with a Criminal Record is available in Appendix 4 of the Undergraduate Admissions Policy 2022/2023.

For all other programmes which are not exempt from Rehabilitation of Offenders Act, new students will be informed, once their place has been confirmed, by Student Services and Systems, that if they have any unspent convictions for relevant offences(s), or if they are under investigation for a relevant offence they must contact Academic Affairs at appeals@qub.ac.uk and declare these within two working days of confirmation that their place has been confirmed. This includes:

Having an unspent criminal conviction for a relevant offence; or
Having a Non-Molestation Order or an Order under the Protection from Harassment Order (Northern Ireland) 1997, in which the complainant is a member of the University, or an Anti-Social Behaviour Order or a Sexual Offences Prevention Order; or 14
Being subject to police investigation and/or subject to pre-charge, police or court bail conditions for a relevant offence; or
Being summonsed in relation to a relevant offence.

Regulation 5 of the Regulations for Students sets out the relevant offences which must be disclosed.

View (Regulations for Students). Please note the list of offences specified as relevant offences is not exhaustive and the criteria may be amended from time to time. Any changes however, will be communicated. No disclosure is usually required of motoring offences attracting fines/maximum 3 penalty points or 'spent' convictions under the Rehabilitation of Offenders Act 1974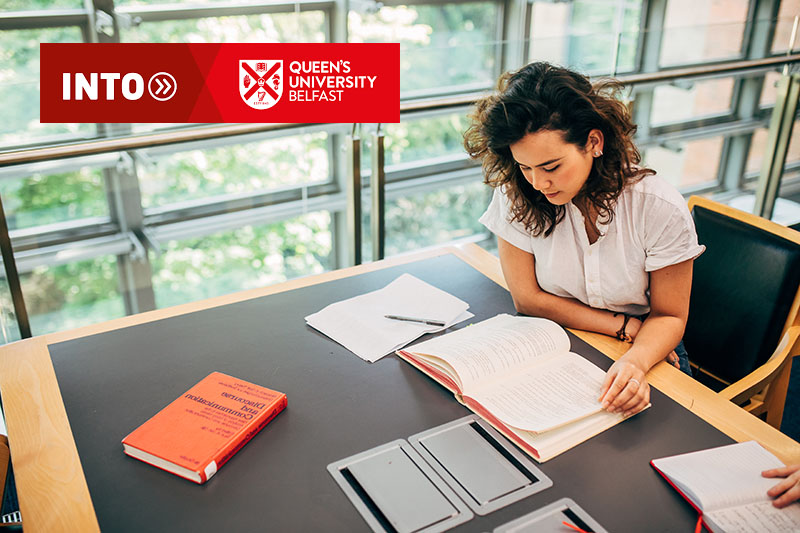 International Students
Pre-university courses with INTO Queen's
Pre-university courses help prepare you for entry to Queen's University. You can choose from a wide range of English language and academic preparation courses offered by INTO Queen's University including Academic and English progression courses leading to Year One and Year 2 Undergraduate degrees and Postgraduate degrees at Queen's.