An event in partnership with the British Academy and Queen's University Belfast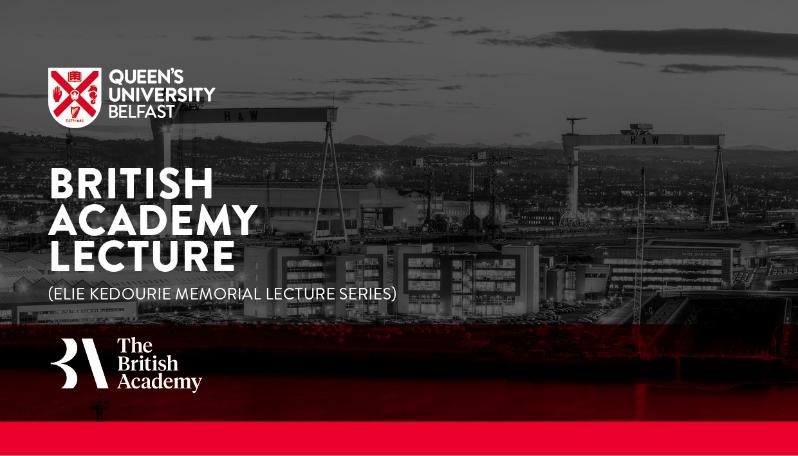 Queen's University Belfast
---
British Academy Lecture (Elie Kedourie Memorial Lecture Series)
'The Meaning of Brexit and the Future of the Union'
About the Lecture
The United Kingdom has left the European Union, but connections with the bloc remain live and active. In this lecture Professor David Reynolds FBA, Emeritus Professor of International History at Cambridge University, explores some of the issues that are still not fully resolved, such as border policies (the Channel crossing, Northern Ireland) and the UK's relationships with its European neighbours. Professor Reynolds also considers the apparent failure of successive governments in London to face up to the implications of devolution since the late 1990s, and reflects briefly on the future of the other Union – the EU – in the era of Brexit and Putin.
About the Speaker
David Reynolds is Emeritus Professor of International History at Cambridge University and a Fellow of the British Academy. He is presenter of various TV and radio documentaries and author of fourteen books – including In Command of History: Churchill Fighting and Writing the Second World War (2004 – Wolfson Prize), The Long Shadow: The Great War and the 20th Century (2014 – Hessell-Tiltman Prize), Island Stories: Britain and its History in the Age of Brexit (2019) and Mirrors of Greatness: Churchill and the Leaders Who Shaped Him (October 2023).
About the Chair
Graham Walker is Emeritus Professor of Political History at Queen's University Belfast. He has written widely in the fields of British and Irish history and politics is a member of the Royal Historical Society and an Honorary Fellow of the Institute for Irish-Scottish Studies. His research focuses on Scottish and Irish Political History and the politics of sport.
Delivered by the most outstanding academics in the UK and beyond, the British Academy's flagship lecture programme showcases the very best scholarship in the humanities and social sciences. The Elie Kedourie Memorial Lectures commenced in 1996 and are intended to be on modern history and politics, with particular regard to Europe or the Middle East
Elie Kedourie Memorial Lectures
Full lecture details available here
Department

School of History, Anthropology, Philosophy and Politics