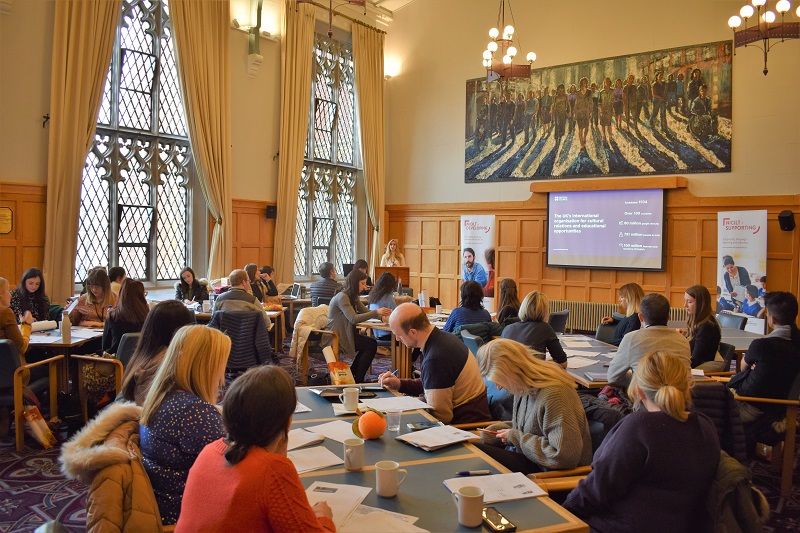 TEACHER PROFESSIONAL LEARNING
Stay up to date
CPD plays a fundamental role in ensuring a high level of expertise and enables teachers and educators to keep their teaching skills and knowledge up-to-date. Methods are changing at a rapid pace and training is essential for all teachers to keep up with the challenge of the 21st century, its learners and their expectations. At NICILT our events focus on developing a wide variety of techniques, areas, skills and cater for teachers of all languages in the curriculum. They are tailored towards particular needs of teachers and are run in collaboration with a range of well-known organisations and bodies to provide the very latest information.
Updates on upcoming professional development events for 2021/22 will be published here in due course
Previous events
In June 2021, NICILT hosted a series of Professional Development webinars, in collaboration with Jennifer Wozniak-Rush, Rachel Hawkes and Suzi Bewell. For further information on these sessions, please contact nicilt@qub.ac.uk:
Grammar is fun!
Guest Speaker Jennifer Wozniak Rush
Grammar is key and therefore it is important that our pupils master it. This session will present a variety of engaging, interesting, up-to-date strategies to make all your students enjoy learning grammar. Offering practical ideas for teaching grammar in a fun way, the ideas and activities presented in this webinar can easily be adapted for every language and can be used straight away back in the classroom.
Jennifer Wozniak-Rush, Assistant Headteacher for Teaching and Learning, ELE and Specialist Leader of Education in T&L and MFL at The Hollins in Lancashire has a wide experience of teaching French from KS1 to KS4. She also teaches KS3 Spanish. Jennifer has a real passion for teaching languages and loves sharing ideas with others.
Making the case for change: championing challenge and calming concerns
Guest Speaker Rachel Hawkes
The most dangerous phrase in the language is "we've always done it this way"' (Rear Admiral Grace Hopper).
In this session we challenge ourselves to understand the rationale for a new approach to languages curriculum design. As teachers we make 100s (1000s!?!) of decisions every day and in schools, change is often the only constant, but we also lack time for bigger picture reflection and therefore may resist knowledge that takes us out of our comfort zone. There will be free resources and teaching ideas, too!
Rachel Hawkes is co-director of the National Centre for Excellence for Language Pedagogy (NCELP). She works across the 11 schools in The CAM Academy Trust, where she is Director of International Education and Research and SLE for languages. She is also a former President of ALL, and is author of several languages text books. She has a PhD from the University of Cambridge, focusing on teacher and learner interaction in the secondary languages classroom
Passport to the world: decolonising the curriculum in MFL
Guest Speaker Suzi Bewell
Offer your pupils a virtual passport out of lockdown and dare to explore the wider French, Spanish and German speaking world in your lessons. When teachers and learners explore the beautifully diverse world around them, rich cultural conversations can't help but happen. Allow Suzi to reignite your passion, globalise your curriculum and transform your existing SoW.
Suzi Bewell is a well known languages teacher and trainer. Until 2015, she ran the PGCE MFL course at York University and currently works part time as visiting lecturer on the PGCE MFL course at Leeds Trinity University. She has over 20 years' experience of teaching French, Spanish and German, and more recently Mandarin in the UK and overseas, is a SSAT Lead Practitioner for language and also runs her own successful educational consultancy http://www.pollyglotlanguages.co.uk supporting languages teachers worldwide to integrate more TL culture into their lessons.
NICILT would like to thanks Jennifer, Rachel and Suzi for helping us to deliver this webinar series