Head of Portering ServicesEstates Directorate
Martin is Head of Portering in the Estates Directorate, overseeing the day-to-day workings of the portering service, which provides mail room services, delivery of mail, room set-ups, VIP transport, and internal furniture moves.
What does your role as Head of Portering involve?
As Head Porter, it is my duty to oversee an organised, effective and efficient department, which will meet the requests and needs of any user of our services.
What does an average day look like for you?
An average day would start at 8.00am, with all vehicles being brought out from the University garage. Then we would be straight into setting up any halls that are being used that day. Our next duty would be sorting and delivering any mail that has been delivered via Royal Mail.
As the day goes on we will go through the PlanOn system and complete any requests – this could be anything from office moves to driving duties or delivering parcels throughout the University. Towards the end of the day we will plan for the next day, making sure that whoever has the halls booked have contacted us with their requirements; if not we will chase this up and find out their needs.
What is the best bit about your role?
The best bit about my role is the people you meet and the help and assistance you are able to provide to others.
What makes you most proud about your contribution to the University and our staff and students?
I am very proud of the contribution the department makes in the day-to-day running of the University. I am also very proud of the work we carry out around Graduation times, in making sure the day is a memorable day for both students and their families. I am very thankful for the recognition we received in winning Team of the Year in the Staff Excellence Awards 2018.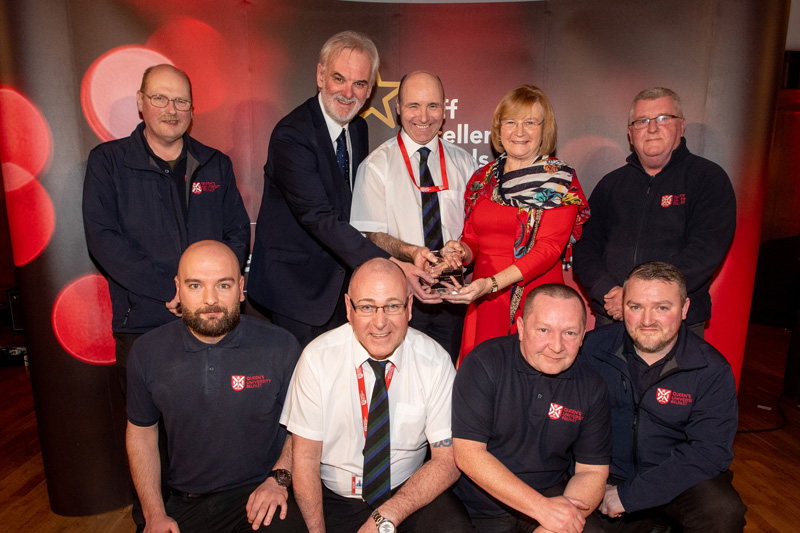 About Martin
Tell us an interesting fact about yourself.
An interesting fact is that I'm proud to have represented my County, Antrim, at both Underage and Senior Hurling and Football.
What do you like to do in your spare time?
My spare time is spent either helping to develop our kids within my club, or taxiing my own kids back and forward to training and matches.
What is your favourite app?
My favourite app is my music. Either driving or training, music helps you through it.