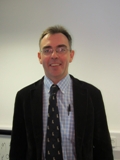 Consultant Urological Surgeon, Ulster Hospital Dundonald August 2014-present
Consultant Urological Surgeon, Belfast City Hospital Feb2006-July 2014
Fellow, Monash Medical Centre, Melbourne Feb2005-Feb2006
Specialist Registrar, Northern Ireland Urology training scheme Aug2000-Feb2005
Urology Research Registrar Aug1998-Aug2000
Senior House Officer, Northern Ireland core surgical scheme Aug1996-Aug1998
Anatomy Demonstrator, QUB and
Senior House Officer, Belfast City Hospital A+E department Aug1995-Aug1996
Junior House Officer, Royal Victoria Hospital Aug1994-Aug1995
I recently chaired the Northern Ireland urology clinical guidelines panel. I and a team of consultants drafted guidelines for a range of urological conditions. I have achieved consultant agreement across Northern Ireland on guidelines for; lower urinary tract symptoms, haematuria, scrotal masses, raised PSA, renal colic, acute kidney obstruction and acute retention.
I am a member of the British Association of Urological Surgeons, Council member Irish Society of Urology, European Society of Urology, British Society of Endourology, British Society of Female and Reconstructive Urology.
I have written/contributed to 13 peer review publications and 8 clinical papers. In addition, I have contributed to seven successful grant applications in the field of uro-oncology.