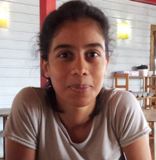 I graduated from Universite Paul Sabatier (Toulouse, France) in 2013 with a PhD in the field of toxicology and cancerology. Currently I'm a post-doctoral research assistant supervised by Kate Williamson in the CCRCB (Centre for Cancer Research and Cell Biology, Queen's University of Belfast). I am really enjoying working on a clinical trial, especially in the HaBio Clinical Team.
I am split across three projects:
Derivation of an occupational risk score for each ISCO-coded job registered in the HaBio database in close collaboration with Dr Lesley Anderson (Public Health (QUB)), Mr Mike Stevenson (Centre for Medical Education, QUB) and with Dr Frank de Vocht (University of Bristol).
Description of the background inflammatory response in bladder cancer tissue through the application of StrataQuest software.
Preliminary study for hypertension polymorphism screening: incidence of CYP4A11/CYP4F2 SNPs in a small cohort of bladder cancer patients.
In the future I would like to work on clinical research projects.