Derry & Strabane City Deal - 15 year plan - UK Government injects £105m
£105m injection of funds from UK Government to make possible the Derry-Londonderry City Region Deal. Announced by NI Secretary Karen Bradley on the 7th May 2019. 15 year plan to stimulate the economic development of the Derry and Strabane area.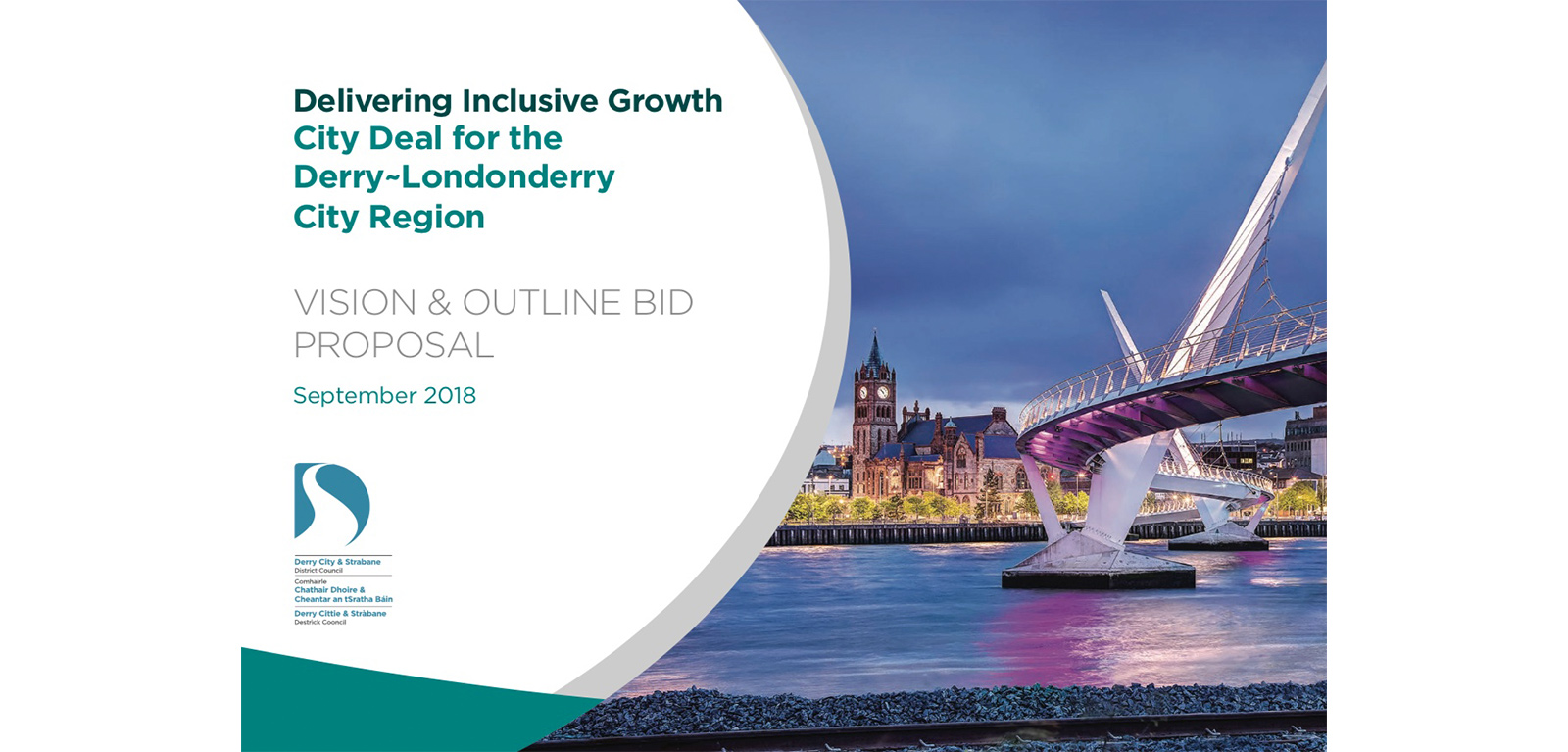 Derry and Strabane Mayor John Boyle said:
"This hugely significant announcement today for the Derry and Strabane District will go some considerable way in addressing the long-standing obstacles to economic development that this city region and its people face. It is good news and is the result of an enormous amount of work and sustained effort invested by council and the city and regional partners to develop, deliver and negotiate on the bid."[1]
City deals are bespoke packages of funding and decision-making powers negotiated between central government and local authorities and other local bodies, and gives them the powers and freedom to:
Take charge and responsibility of decisions that affect their area
Do what they think is best to help businesses grow
Create economic growth
Decide how public money should be spent
"... improvements to the region's digital connectivity, the creation of skills academies...a Centre for Industrial Digitisation, Robotics and Automation...Urban regeneration, infrastructure and tourism projects...".[1]
The proposal [2] was developed and submitted by partners that included: Derry City and Strabane District Council; Ulster University; Foyle Port; North West Regional College; City of Derry Airport; Clinical Translational Research and Innovation Centre (C-TRIC).
Background
History of City Deals [3]. Between July 2012 and August 2014, 26 City Deals were agreed. The first wave, completed in July 2012 covered the 8 largest English cities outside London; the second wave, completed in July 2014 covered the next 14 largest English cities and their wider areas, as well as the next 6 English cities and areas with the highest population growth between 2001 and 2010. In a one-off deal in August 2014, Glasgow and the Clyde Valley became the first area outside England to agree a deal. In 2016, deals were agreed with Aberdeen, Cardiff and Inverness. In 2017, deals were agreed with the Swansea Bay area and Edinburgh and South East Scotland. In 2018, a deal for Stirling and Clackmannanshire was finalised. In 2018 "Heads of Agreement" were signed by the Scottish and UK governments for Tay Cities Regional Deal. In March 2019 the Belfast City Deal was announced.
References
[1] https://www.bbc.co.uk/news/uk-northern-ireland-foyle-west-48180900
[2] http://www.derrystrabane.com/citydeal
[3] House of Commons Library. "City Deals". [on line]. Available at <https://researchbriefings.parliament.uk/ResearchBriefing/Summary/SN07158>. Accessed 2000hrs, 19 March 2019.