Based on the Staff Charter and our core values, the Staff Excellence Awards celebrate and reward the outstanding work that goes on across Queen's.
The awards celebrate and recognise the achievements of all categories of staff at Queen's - from our researchers and operational staff to our teaching academics, administrative staff, technicians, and Professional Services colleagues.
The awards are open to all staff and students to nominate any colleague who they believe is living the values of Excellence, Connectivity, Ambition, Respect and Integrity through their everyday work.
Nominations now closed
Please note that nominations for the 2022-23 Staff Excellence Awards have now closed.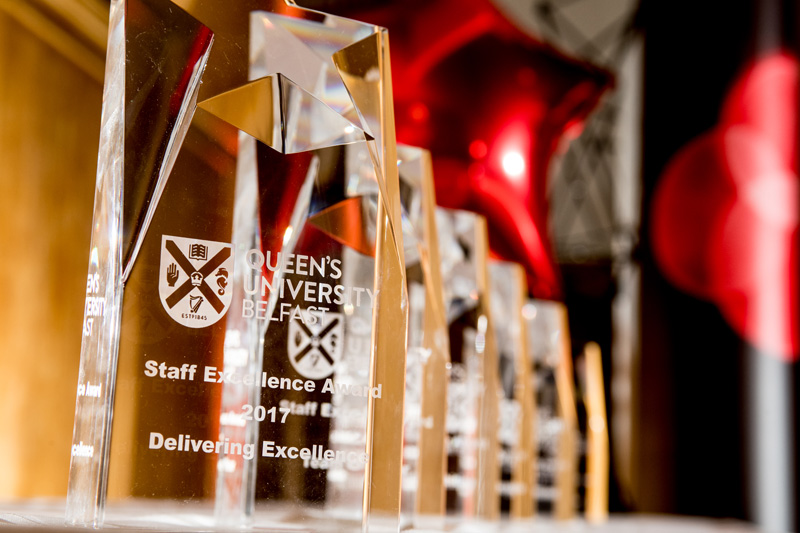 Award Categories
Staff Excellence Awards are available in seven categories.
Delivering Excellence, Making an Impact, Celebrating Innovation, Best Collaboration, Outstanding Leadership, Exceptional Contribution and Commitment to Sustainability.
Judging Panel
The Judging Panel is made up of staff from across the University as well as a student representative.
The Panel will assess all nominations against the award criteria.
HEAR FROM A PAST NOMINATOR
David Robinson, Assistant Director, Digital and Information Services, reflects on his experience nominating his colleague Helen Browne who went on to win in the Delivering Excellence category for 2021-22.
HEAR FROM A PAST NOMINEE AND WINNER
Karen McCormick, Head of Childcare, reflects on her experience winning the Team of the Year category in 2021-22 along with her team.
Staff Excellence Awards Blogs
Hear from more of our previous winners
View our special staff blog series, 'Queen's Staff Excellence Awards', with reflections from previous winners on their positive experiences from nomination to awards ceremony.