Replacement Student Cards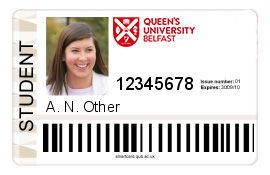 Lost your card?
disable the card. [go to QOL -> "My Smart Card" application-> select the option to Hotlist A Card]
report the lost card to the Information Desk (Level 1) in the Student Guidance Centre to see if it has been handed in:
Email: sgc@qub.ac.uk
Telephone: 028 9097 2727
There will be a £10 charge for replacement cards
Please note due to COVID-19 restrictions we are not currently reissuing cards unless required for essential accesses - when lockdown restrictions have lifted you will be able to collect a replacement card.
Found a card?
please return it to the Information Desk (Level 1) of the Student Guidance Centre.
For the most up-to-date information regarding Student Smart Cards, please visit the Information Services Website.