The Centre for GIS and Geomatics manage a live Automatic Weather Station (AWS) and publish observations to popular online weather sites.
The professional weather station (Davis Vantage Pro2+ ) is installed on the of the roof of the Geography Building (Elmwood Building), recording the following climatic observations:
Atmospheric Pressure
Air Temperature
Relative Humidity
Dew Point

Precipitation

(amount and intensity)
Wind Speed (Current, Average, Max Gust)
Wind Direction
Solar Radiation (Watt m2)
UV Index
All care is taken to insure the station is online and active, but on occasion the station may drop connection to the internet.
This weather station is intended for education, scientific research and community outreach, and is not affiliated with any national or international Meteorological Organisation.
Live and archive observations are available here to view and download (an external link - Weather Underground -WU)
Queen's University of Belfast. School of Geography. - IBELFAST4
We also manage two external weather stations using the same hardware for the Binevenagh and Coastal Lowlands Landscape Partnership:
Altikeeragh Nature Reserve - ICOLER5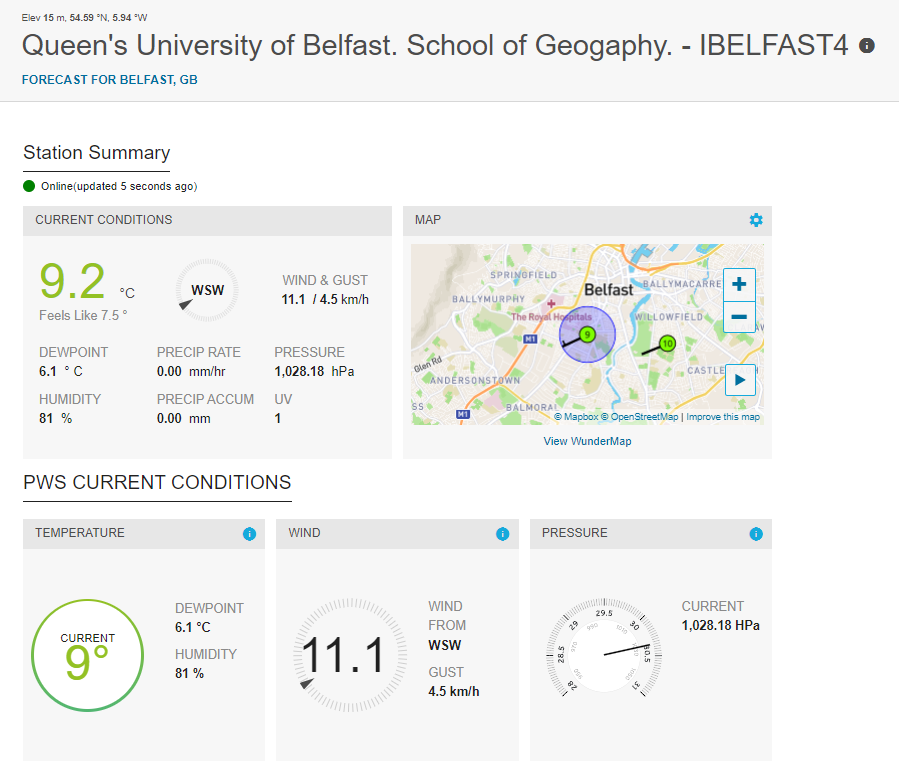 QUB are not responsible for any decisions made from station observations.