Professor Mary Ward Personal Profile
Professor Mary Ward, Deputy Director of NI Clinical Research Facility (NICRF)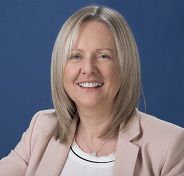 As Deputy Director of Northern Ireland Clinical Research Facility (CRF), my role is to support the activities of the Director by helping to promote this world class facility where high quality impactful research can be undertaken. The CRF represents a strategic part of the research infrastructure in Northern Ireland (NI) and provides a state-of-the-art facility for colleagues from Trusts across NI to collaborate with researcher leaders from the two local Universities (Queen's University Belfast and Ulster University) to conduct high quality investigator-led research involving patients and healthy volunteers from our local community.
Mary Ward is Professor of Nutrition and Dietetics at Ulster University where she is the Course Director for the undergraduate Dietetics programme. Her research at the Northern Ireland Centre for Food and Health (NICHE) is focused on B-vitamins involved in 1-C metabolism and she has over 20 years' experience of conducting highly controlled nutrition intervention studies in different population and clinical groups. A particular interest is the interaction between B-vitamins and a common polymorphism in the folate metabolising enzyme methylenetetrahydrofolate reductase (MTHFR) which has led to the novel discovery that vitamin B2 (riboflavin) appears to be an important modulator of BP in individuals with a genetic pre-disposition for hypertension. To date she has published >70 scientific papers in top-ranked journals across several disciplines. She has attracted significant external funding (over £5M) from government agencies in Ireland and the UK, RCUK, the EU, Charities and Industry. Mary is currently Deputy Director of the Wellcome Trust-Wolfson Northern Ireland Clinical Research Facility at the Belfast City Hospital and was Chair of the Nutrition Society (Irish Section) from 2009-13.
For general enquiries, please contact us at our general email account:
nicrf@qub.ac.uk
or phone our main line:
028 9504 0342.


‌
Location:
NI Clinical Research Facility,
U Floor, Belfast City Hospital,
Lisburn Road, Belfast, BT9 7AB
Tel:+44 (0)28 9504 0342
Email:NICRF@qub.ac.uk
Connect to the NICRF