N. Ireland A-level Language Debates
We run the annual French, German, and Spanish competitions.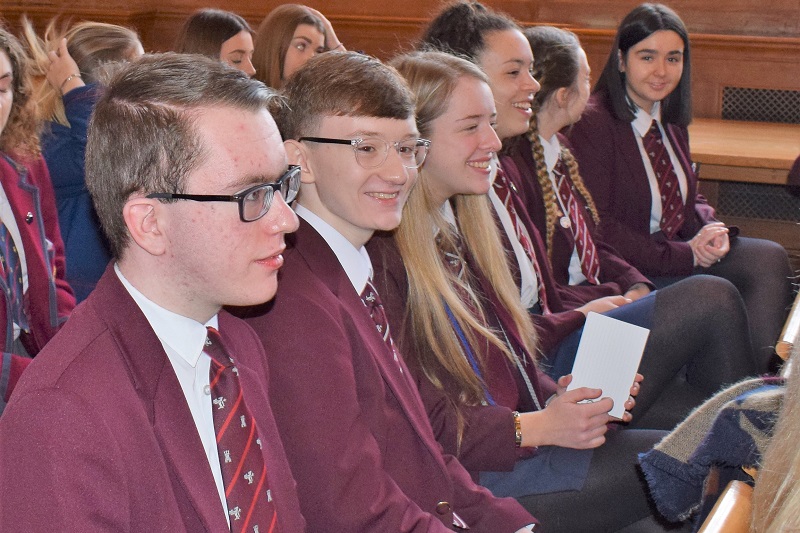 Who can take part in the Debates?
Pupils at school studying AS or A2 French, Spanish or German
Teams should consist of pupils from AS and/or A2 and can be made up of of pupils from different schools if they are taught the language together within the school's Area Learning Community. Mother tongue speakers, defined as having a French/German/Spanish-speaking parent and/or having lived continuously in a target-language country or community for 3 months or more, are not permitted to take part. The discretion of teachers should be used and the competition relies on their professional integrity in selecting team members. If you have any queries about who can or cannot take part please get in touch.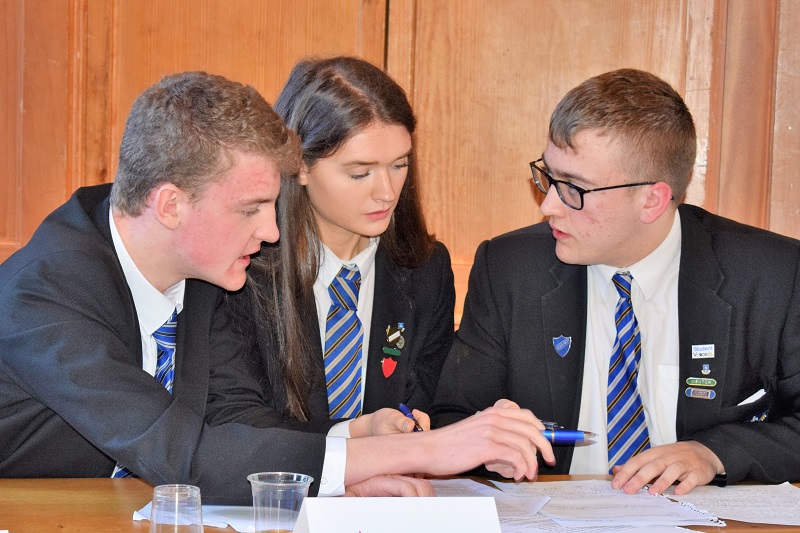 What are the benefits?
Gain more skills
Enhanced linguistic and social skills, confidence and public-speaking experience. Greater preparation and confidence for oral examinations at AS and A2. Focus on giving opinions and justifications- both relevant to A-level study, Higher Education and employment. More opportunities to meet and compete with others from across Northern Ireland on topics of relevance to A-level language studies. Get performance feedback from experts in the field based on a mark scheme that reflects the CCEA AS and A2 Speaking Component. Gain team-work skills and experience of working under pressure to deliver results in front of an audience of peers.
Format
Please read the following information carefully:
Up to 10 teams will take part and each school will debate against one other school and there will be a different motion for each debate. This is to encourage creativity and challenge and to prevent repetition of ideas. The topics of each debate are based around AS contexts so are accessible to both AS and A2 students. Motions and stances for the debates will be provided 2 weeks in advance of the event and will be sent to the teacher by email.
Teams should consist of three pupils, from AS and/or A2. A substitute team member should also be present on the day and be prepared to take part on the day of the competition, in case of absence of a team member. Please note that judges are not made aware what level (AS or A2) a speaker may be.
Each team member should prepare a debate speech of 3 minutes and not more than 3 minutes 30 seconds. Three points will be deducted for every 10 second interval over 3 minutes 30 seconds. A bell will sound after two minutes and again after 3 minutes.
Each team member will stand to give their speech. Cue-cards may be used. Speeches should not be read out. Team members who read their speech will receive fewer marks for Communication Skills (see below).
Speakers 2 and 3 can pick up bonus points by commenting briefly on the opposing team's previous speaker's speech. They should plan timing carefully to allow for this.
At the start of the debate, each team captain will introduce team members by name. They will briefly outline each aspect / angle from which each member will argue and then go on to make his / her own points.
All speeches should open with a formal acknowledgement of the judges and the polite 'you' form should be used throughout the whole debate. The target language must be used throughout the whole debate, including for proverbs and quotations. If official names of companies, buildings, programmes etc are to be included in speeches, these may be left in the original language.
Team captain must, in addition to their opening speech, summarise in 2 minutes their team's defence and contradict the opposing team's arguments at the end of the debate. There will be three minutes allocated before this for captains to discuss their summaries with their team-mates and plan their speech.
All teams will be judged by the same panel of at least three independent judges. Judges will adjudicate using a set mark scheme, which is based on the following aspects of language:
- Content & Knowledge (20 marks)
- Range & Accuracy (10 marks)
- Pronunciation & Intonation (10 marks)
- Communication Skills & Fluency (10 marks)
- Other marks will be awarded based on speakers' comments on their opponents' stances (5 marks) and team captains' final summaries (20 marks).
For the full break down of the mark scheme please click here.
There will be prizes awarded to the best speaker of each debate, the runners' up team, and 1st prize will go to the winning team with the highest cumulative score.
Please be aware that pupils and teachers will be photographed on the day and photos might be used on NICILT social media or website.

Important Information
Please read all details below on who can take part and the format of the events and also note the following:-
- Up to 10 schools will be chosen for each event and in agreement with our funders, the Department of Education, non-selective schools that register to take part will automatically gain a place in the competition.
- Names of remaining selective schools will be chosen at random and announced in a live Facebook Draw. They will also be posted on our website and social media and teachers named above will be notified by email.
- Motions will be sent to teachers named above at least 2 weeks before the event will take place. Please ensure you check your emails around this time.
- Teams are made up of 3 speakers and a reserve. All 4 pupils must be in agreement to take part and be present on the day of the competition. Please do not enter a team if you do not have 4 willing pupils.
- You must have prior permission from your principal for pupils and staff to attend the event.
- We rely on your professionalism for the events to be a success. If your team is chosen to take part but is unable to do so, please let us know as soon as possible and before the motions are due to be sent out. If your team is one of the 10 chosen teams, your opposing team pulls out and we cannot find a replacement after the motions have been sent out, your school is still eligible to take part but cannot win or come runners up in the competition. Your team can still present their arguments and one member will win a best speaker prize. This is only fair and unavoidable, as your team will not be able to compete on an equal footing with the remaining teams.
- If a school withdraws, we may contact you at short notice to offer your team a place in the competition. Registered teams will be notified and the place will be allocated on a first come, first served basis.
- To increase engagement and enjoyment of the competition, we encourage chosen schools to bring their full AS and A2 classes to the event. We may also offer places to GCSE pupils interested in taking languages at AS. We will contact you regarding places for supporters in due course.
PUPIL VOICE
What do participants think?
Jonathan Boyd (Team Captain) and Cavan Boyd (winner of Best Speaker), from Antrim Grammar School, give their perspective:-
"Participation in this year's A-Level French Debates allowed us to develop our confidence speaking in public, as well as our ability to speak spontaneously. This will be of great use to us in our A-Level speaking exams and further studies at university. While preparing for the debate we also realised how quickly we were improving our French as we had to work on it so intensively. Even before this, we had set up a French debating club in school, in anticipation of the competition and met every week. This also helped improve our oral fluency and confidence.
We have also noticed how our participation and winning the NICILT Cup has inspired other students, particularly younger ones, to get involved in the extra-curricular language activities in school and it has raised the profile of French in the school. We hope it has encouraged them to aim high and know that they too can achieve in French. Overall, it was a very worthwhile activity and we would encourage others to take part in the future."