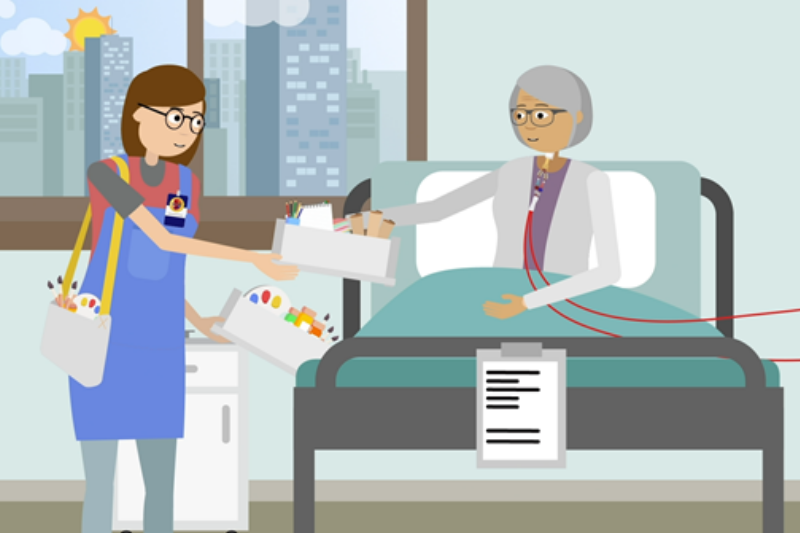 Research
GUIDANCE FOR VOLUNTEER-LED ARTS INTERVENTIONS IN RENAL UNITS
Dr Helen Noble, Dr Claire Carswell and Anna Wilson have developed guidance for implementing volunteer-led intradialytic arts activities in haemodialysis units. The research team worked in partnership with the project's advisory group, made up of volunteering and healthcare staff from the Northern Health and Social Care Trust, including the Community Wellbeing Manager and Volunteer Co-ordinator, to inform the development of a guidance document outlining how trained volunteers can support arts interventions for patients undergoing dialysis. A workshop and focus group were held with patients, artists and representatives from kidney charities to further refine the guidance and inform the dissemination strategy.
The initiative originally planned to develop guidance for direct one-to-one bedside facilitation of arts activities, however, the restrictions imposed by the pandemic, including enhanced infection control protocols within hospitals and risk management strategies employed by health and social care trusts, meant an alternative approach was considered. The guidelines now reflect the need for virtual volunteers, which will allow patients to continue to be supported via video and telephone calls when access to the unit is restricted.
The guidance and infographic are available to download via the links below, along with an engaging animation developed by research communications agency Science Animated.