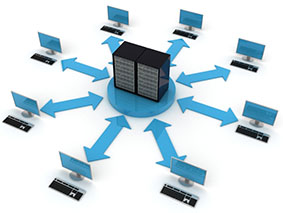 QUB file storage is a centrally administered secure area on the servers for staff and students to store files. It can accessed on- or off-campus.
On-Campus: Log into a local computer using your student/staff number and password (or ads\staff no)
Off-Campus: Use Citrix (see Remote Working for details)
This will give you access to a Network Drive (Q) which typically consists of:
Q:\Staffhome (or Stuhome) -

a home drive

used to store personal files
Q:\StaffShared2 - a shared drive used for departmental files (Staff only)
All QUB work should be stored on these drives as it offers a number of advantages.
Advantages of Network Storage

Data Integrity and Security - Data is held in a secure location and is backed up daily, so accidentally deleted or corrupted files can be restored.
Continued Access - If a PC breaks down or a person is required to use another machine, files are accessible from any networked PC.

Access Anywhere - Files can be accessed from anywhere around the world where an internet connection is available

Please Note-Important Information

Students have a limit of 3GB of storage - when this limit is breached you will contacted and asked to reduce it. Failure to do so may result in your account being disabled.
Network drives should not be used for backing up entire PCs or storing large video and music files which require a lot of disk space
Students are advised to refer to the Saving Your Work page.
Staff members who do not have access to the networked file store may request this on Request IT Support with the following details:
For a personal Network Drive (Q:\Staffhome) please include your staff number
For a shared Network Drive (Q:\Staffshared), your Line Manager must email your staff number and the full path of the network drive required e.g. Q:\StaffShared2\Student Files