Money matters- why budget as a student and how to do it yourself
Queen's student Kathryn Allen shares how she learned to manage money as a uni student and tips on how you can too!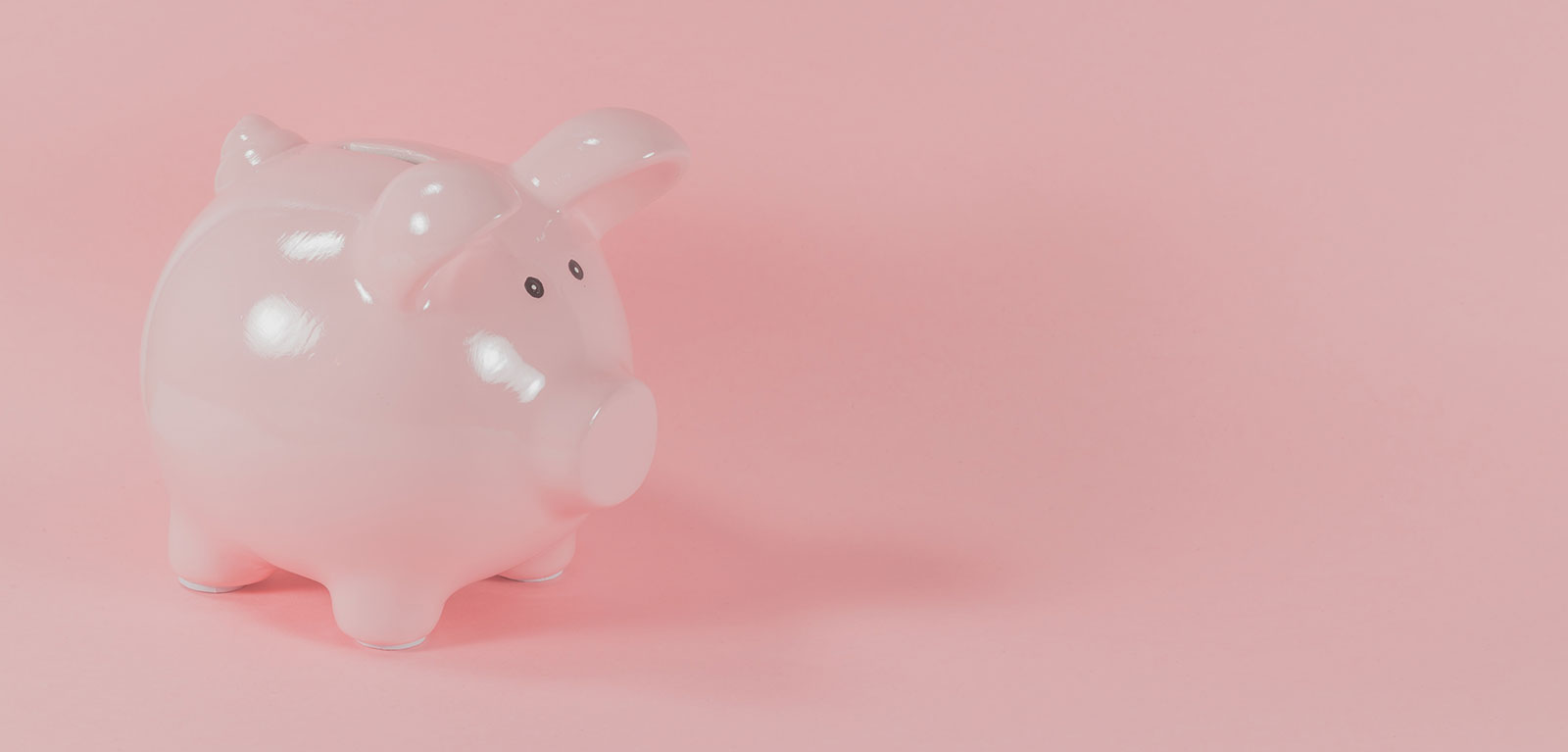 My experience
When I moved out of my first year uni accommodation in March 2020, I found a little book in one of my drawers, tucked away during freshers week and promptly forgotten about. Inside, on the first page there were the rudimentary calculations for a student budget and spending tracking that I'd abandoned.
It wasn't until my third year that I really started to understand that in order to live my university life to the fullest, but also guilt-free, that I needed to pay a little more attention to my money. In first year I had more money than I'd ever had in my life until that point, so I didn't feel any worry. In second year, I spent very little, a year dominated by lockdown. When things opened up again in third year and I moved into rented accommodation for the first time it felt like there was always something to be spending money on, and I had no clear idea on what was actually sustainable!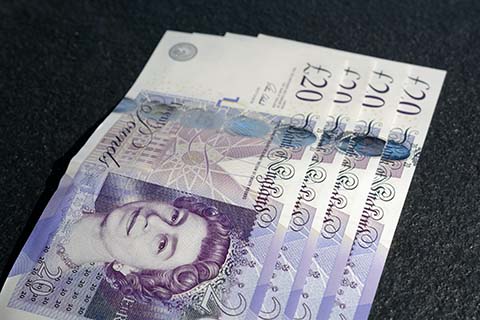 Save cash with Kathryn's tips
I don't know about you, but any education I had on financial literacy at school taught me that it was important to budget and look after my money, but never taught me how. And while there is lots of great advice and education available online, it's overwhelming- with budgeting apps and conflicting ideas galore.
How to make a student budget
This year, with the rising cost of living, is the perfect time to give a little thought to money matters. And while I am in no way an expert, and I still (hopefully) have a way to go to improve my own methods of taking care of my money- I thought it was a good time to share some tips so we can budget together.
Pick a platform
Firstly, pick a platform to use. Websites like Money Saving Expert can give advice on the best free budgeting apps to use, but I personally felt making something from scratch was easier to tailor the categories I would use. I currently use a budget template from Notion, which tailored to my life! Notion is free to use and I like being able to sync things between my laptop and phone with the apps, but can require a little fiddling and a few YouTube tutorials to learn how to use. An Excel spreadsheet also works well, again allowing things to be customizable.
Figure out your income and expenses
Next, you need to figure out your income and expenses. Income includes your student finance, any money you make from a part time job, money from relatives or gifts, any bursary you may be receiving. While it's hard to predict , try to think about it on the scale of the whole year rather than in any given month, so you can see where money is likely to arrive.
The same for expenses. Think of categories of things you regularly have to spend on- for example, rent, gas and electricity, petrol, subscriptions, phone bills. Don't forget that not all of these bills will be regular, such as car insurance or buying textbooks, so have a look back at previous bank statements to figure out any annual expenses you might miss!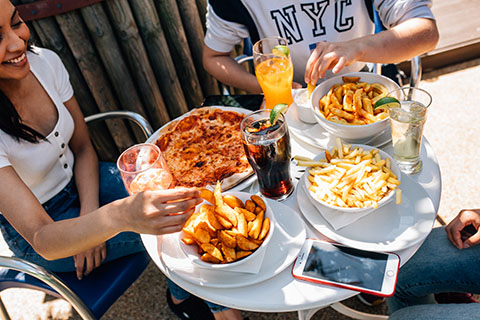 Budgeting properly can help you pay for occasional treats
The difference between your incomes and expenses give you an allowance for the year to have as spending money for groceries, toiletries, brunch, nights out, clothes and other more fun stuff.
Personally, this makes most sense to me to work on a monthly basis- so I then divide up my income, expenses and that allowance by 12, to have a rough idea of what to spend monthly. Additionally, in a separate document I then record what I spend each week from that allowance- so I can see where my money goes- see an example below.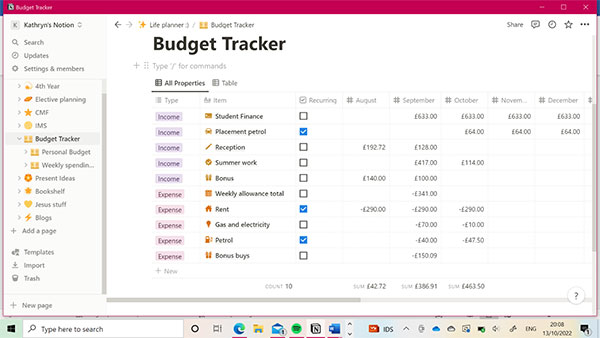 Keep track of everything with a tracker!
The one thing that helped me stick to this allowance was creating a separate bank account, then transferring that set amount into it for the month. That way, I know exactly what I can spend and makes tracking these expenses easier- everything from iced coffees to trips to the dentist!
Other methods to try
If a full budget isn't for you, it's worth looking at your bank statement at the end of the month and seeing what categories you're spending the most in, to give you an idea of where your money is going.
While it's a subject we often skirt around, asking your friends or someone older you trust how they manage their money can be really helpful, as they will have a greater insight into what might work in your individual situation. The curated blogs here also contains great articles on what other students spend in a week at Queen's.
Saving money as a student
If you do the math and feel a little worried about the money you'll have each month, it's also helpful to know some tips and tricks to save money here and there. In my four years at uni, the easiest ways I've cut down my spending include:
Sharing is caring: If you get on well with your housemates, a really easy way to save money is to share some of your household essentials. This works on a variety of different levels- why not take turns buying milk rather than everyone trying to squeeze theirs in the fridge? Or buy essentials like pasta and rice in bigger bags to share? Or even try what my housemates and I do- we each take a night of the week and cook dinner for the whole flat. This means you only have to cook 1 night but have something fresh and delicious every day, as well as saving money.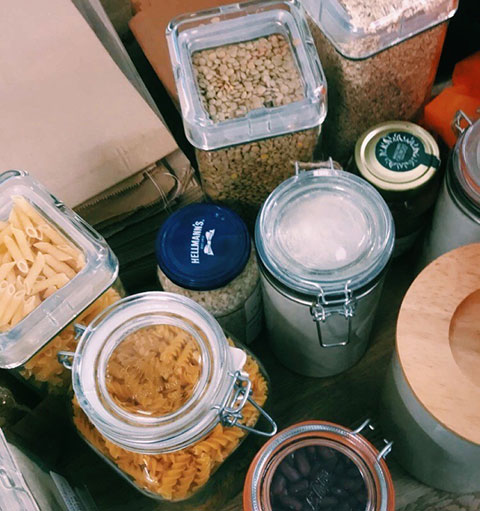 Share staples and save!
Look out for discounts: Patrick has a great blog all about the best student discounts in Belfast- and they really do make a difference! My must-haves include a Tesco Clubcard (which I even added to my phone wallet so it's always on hand), a unidays account for a range of discounts online and in stores, and the Caffe Nero app discount- 25% for students, as well as earning stamps!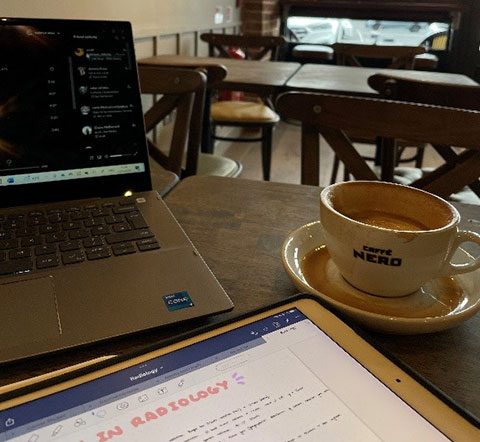 What's better than coffee? Discounted coffee!
Look deeper: especially since moving into my own flat with friends, I'm guilty of taking my bills at face value, and not always making the effort to look around for the best deal- but it's worth doing! Taking time to research the best deals on electricity, gas and WiFi can pay off, as you can be confident you're only paying what you need- companies may offer discounts or free credits when switching your account for the first time.
It's also useful to look a little deeper at your bank statements and make sure you're not paying for any subscriptions you meant to cancel or have been charged too much when out shopping.

It doesn't hurt to ask if discounts are available
DIY: during the lockdowns we got used to making our own fun when the restaurants and nights out were no longer open- and who says that's not still an option? Chances are, your friends are all facing similar worries with the rising cost of living- why not swap an occasional meal out for a night in the house where you each bring one part of dinner along? Or a cocktail making night where you split the costs of the alcohol than paying bigger money out in a bar? With the right people, you don't have to break the bank to have a good time.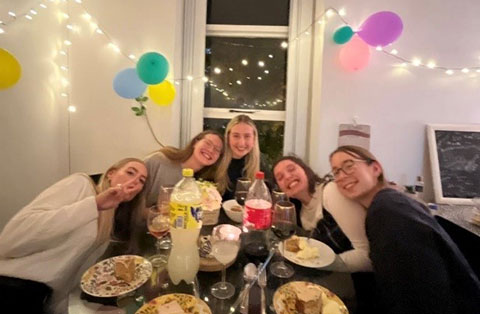 A nice night with friends doesn't have to cost the earth
You're not alone
Lastly, know that this is an area that everyone is figuring out when they come to uni, and you're not alone! If you're struggling with budgeting or with living off the money you have, Queen's have plenty of support available, details on everything from the Student support fund, to the Queen's hardship fund and Advice SU are all available on the new Cost of Living website.
Queen's has recently announced a multi-million-support package of £7.69 million for students and staff facing the current cost of living crisis. This includes enhanced Student Support Funds, payments of £400 or £150 to students, greater support for international students, and the waving of Graduation Fees for 2022-23.
Don't be afraid to reach out!
Find out more
More Cost of living/money matters blogs
Queen's Cost of Living website with lots of tips and advice on how to budget
Kathryn Allen

Medicine| Undergraduate Student | Lisburn, NI

I'm a 21 year old student originally from Lisburn and starting my fourth year of Medicine at Queen's in September- I love my degree because its combines caring for people, learning fascinating things and working as a team. When I'm not busy surviving placement and exams, you can find me in one of Belfast's great coffee shops with a friend, going to concerts to get my fix of live music, or curling up to read a book with a carefully curated Spotify playlist on in the background!