VIDEO: How to Live Sustainably as a Student in Belfast
Student life brings with it a new level of independence. Kathryn shares tips on how to use your new opportunities for the good of the planet, all on a student's budget!
University is a great place to meet new people, with a range of backgrounds and passions, and learn something new. I've experienced this- in first year I met two of my best friends, Amy and Ellen, and they had one major thing in common- a love for our planet, and a desire to do what they could to protect the environment.
I'd already made the switch to a bamboo toothbrush and faithfully took my reusable bag to the supermarket, but until coming to Queen's I hadn't ever thought- how does the way I live affect the planet we live on?
That was my first year of making all my own choices at the supermarket, and having the chance to spend my student loan on things I might want. Whether you're starting uni for the first time and getting to experience this new-found level of power over how you live your life, or have been a student for years and want some easy swaps to make, here are some of the top tips I've picked up from my friends and implemented to care a little more for the planet each day!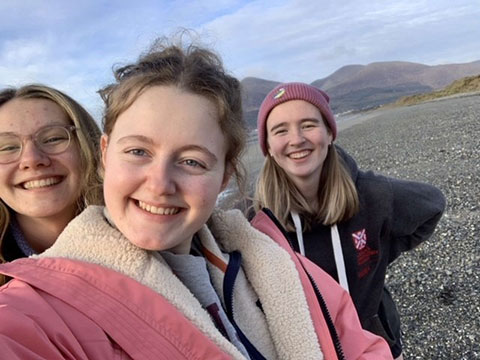 My housemates and guides to all things eco-friendly, Amy and Ellen
Food: Make an impact with what you choose to eat
Eating meat feeds the livestock industry which is responsible for massive effects on the environment and climate change. Forests are burned down to make space for livestock grazing releasing tons of C02, and the animals themselves are a huge source of greenhouse gas emissions. And for students, meat can also be pretty expensive!
As you plan out your meals, why not try to have a few meat-free nights a week? It's a great way to save some money without compromising on eating delicious meals (BBC Good Food is your friend), while also doing your bit to save the planet. Many of the restaurants in Belfast have delicious vegetarian and vegan options to try as well- I am not a vegetarian, but would easily pick some of them over the meat options!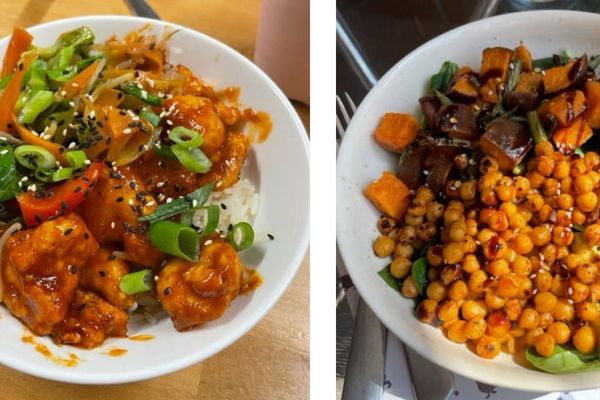 Some of my best vegetarian creations of late
Save money and reduce waste
The UK generated 9.5 million tonnes of food waste in 2018, creating 36 millions tonnes of greenhouse gas emissions, and wasting a huge 19 billion pounds. But as students, joining the fight against food waste can actually save you money. Visiting supermarkets at the end of the day and keeping an eye out for 'yellow sticker' foods is an easy thing to incorporate into your shop- it's easy to save this food just before it goes out of date for a little treat, or to freeze and save for later.
Recently, I've also loved trying out the 'Too good to go' app in Belfast, where you can receive a surprise 'magic bag' of food from businesses like Greggs, Café Nero or Tim Horton's at the end of the day. I got over £10 worth of Gregg's sandwiches and treats on a £3 bag- perhaps the best deal of my student years- and all the food was still pretty fresh and able to be eaten in the following days. Plus, the surprise of what you'll get is a part of the fun!
Buy what you need and save on plastic packaging
When I moved out of halls with friends, we agreed to share meals and a lot of ingredients in our house. And after buying some glass jars and price matching the staples, we decided to do as much of our shop in the Refill Quarter in Belfast as possible. Since then, this refill and eco-living store has opened up a shop right on the Lisburn road, super close to campus.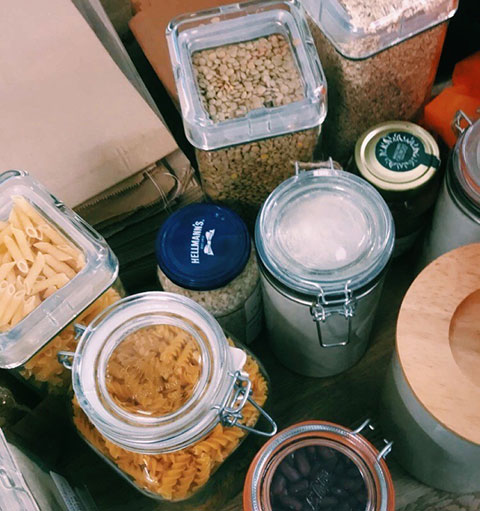 Stock up on staples and save
We loved going to buy everything from chickpeas and pasta to baking supplies and vegan sweets, and its well worth a visit, even for a browse! One thing I really like about the refill quarter is that you pay by weight, so if you only need a small amount of something for a recipe, you can buy and pay for only what you need. Plus, it made our cupboards look super aesthetically-pleasing for a student house.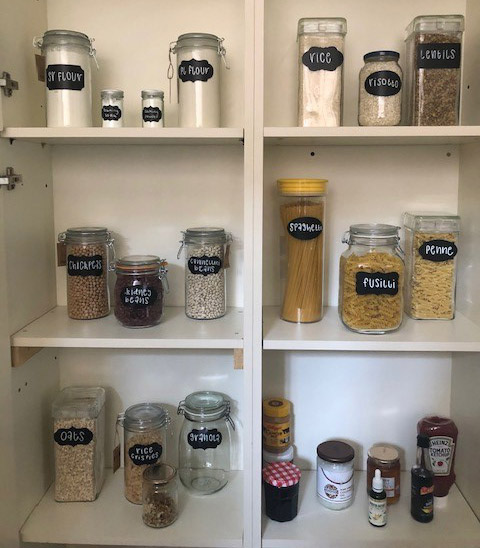 Yasssss to beautifully organised cupboards!
Be sustainable with your clothing
One of the biggest temptations I had once I started to get my student loan was to scroll through sites like ASOS and consider buying a whole new wardrobe. But fast fashion has huge consequences for the environment, including using huge amounts of water to produce our clothes, and treating garment workers poorly across the world.
With the trend cycle getting faster, it's all too easy to buy some new clothing for a single night out and then get rid of it.
There are cheaper and more environmentally friendly ways to shop! Since coming to uni, I've downloaded Depop and Vinted, and love both. Depop has led me to discover stylish vintage pieces, while Vinted is great for everyday essentials at hugely reduced prices. There are also many great vintage and charity shops around Belfast, which is a fun way to pass an afternoon with a friend (check out Patrick's blog for all of the best spots!).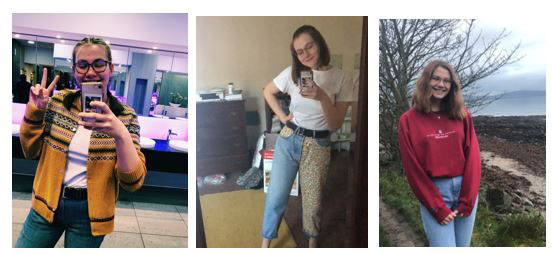 Some of my favourite depop, charity shop and clothes swap pieces!
Refresh your wardrobe with a clothes swap
A clothes swap is also a great way to get new pieces for your wardrobe- I've attended many in Belfast which are free, or with a small donation to charity. These work by bringing clothes you no longer want and swapping them for something new, and many churches, charities and societies in Belfast tend to host them throughout the year. I've found some of my favourite pieces at a clothes swap, and given them years of wear they wouldn't have got in their original closet.
I've also learned more about my favourite brands and their impact on the environment, people and animals through the app Good on You- which means that when I do buy from one of the big fashion brands, I can be more informed, and try my best to re-wear that piece and extend its life.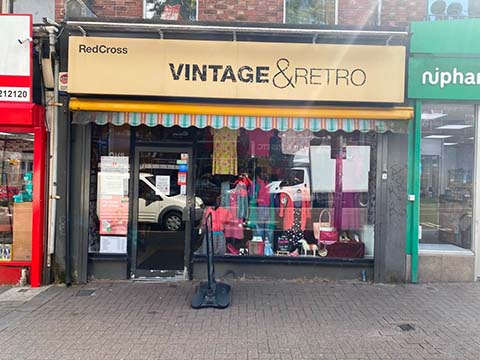 There are loads of vintage and retro shops in Belfast
Make small changes to your routine
Our choices each day can make a difference too. When you move away for university, your daily routine can change- a great time for some easy swaps.
Belfast is a very walkable city with most campus buildings within 5 minutes of each other, and all only a 15 minute walk from the city centre.
Why not leave a little time and enjoy a walk through your new home city, all while cutting car emissions and getting your steps up? Or if walking is not your thing (or Belfast's infamous rain comes around), why not get public transport and save money with a student y-link card?
Don't forget your keep-cup or water bottle
Are you like me and need a daily coffee to power through your lectures? An easy swap to make is to bring a reusable coffee mug and have your drink made in it. This reduces disposable waste, but is going to benefit you by keeping your drink hotter for longer during a McClay study session, and makes a great present for a friend when you're stumped for gift ideas.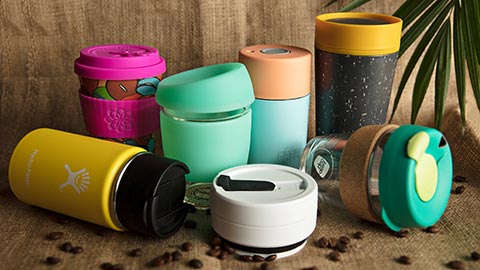 Don't forget your keep cup
Do your bit with a litter pick
Lastly, if you're looking for a new activity to try with your friends, a litter pick is an unconventional but fun-filled choice. Societies or community organisations may be running one you can get involved in, or you can get equipment from the Belfast city council to carry out your own. I've done it with friends and had a nice morning where we visited the local area, enjoyed catching up while we cleaned, laughed at some of the weirder discoveries, and helped the planet at the same time!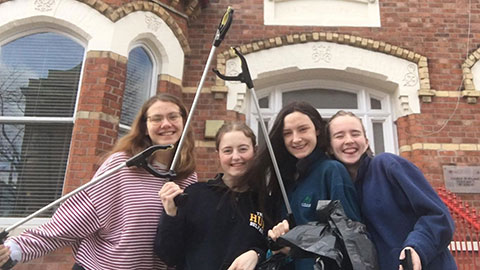 Kathryn and her pals doing their bit with a litter pick
Get green-fingered
There is a thriving student allotment at Elms BT9 that you can get involved with. If you're new to gardening and pretty clueless don't worry because there are regular training sessions all year round. Get in touch with accommodation to get involved.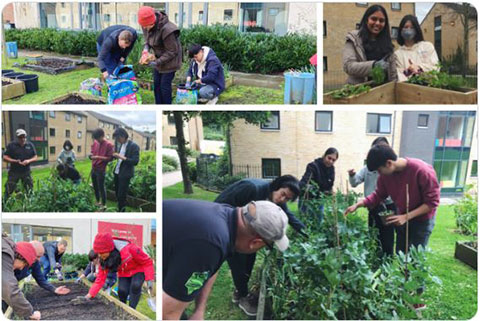 BT9 allotments
You don't need to do all of these things to make a difference to the world around you, but one or two small swaps at a time can lead to a big impact in the long run, and even some money saved- it's all part of helping to keep Northern Ireland beautiful and our planet a good place to live.
Find out more
Join the Green at Queen's Student Society
Blog: Best Vegan Food in Belfast
Blog: The Best of Vintage and Retro Shopping in Belfast
Kathryn Allen

Medicine| Undergraduate Student | Lisburn, NI

I'm a 21 year old student originally from Lisburn and starting my fourth year of Medicine at Queen's in September- I love my degree because its combines caring for people, learning fascinating things and working as a team. When I'm not busy surviving placement and exams, you can find me in one of Belfast's great coffee shops with a friend, going to concerts to get my fix of live music, or curling up to read a book with a carefully curated Spotify playlist on in the background!