The best places to eat in Belfast on a budget
After growing to love the cost of value meals and 30p noodles it can be hard to fork out on a restaurant meal or takeaway. Here's Claire's guide to the best places to eat in Belfast when you're on a student budget plus some helpful money saving tips.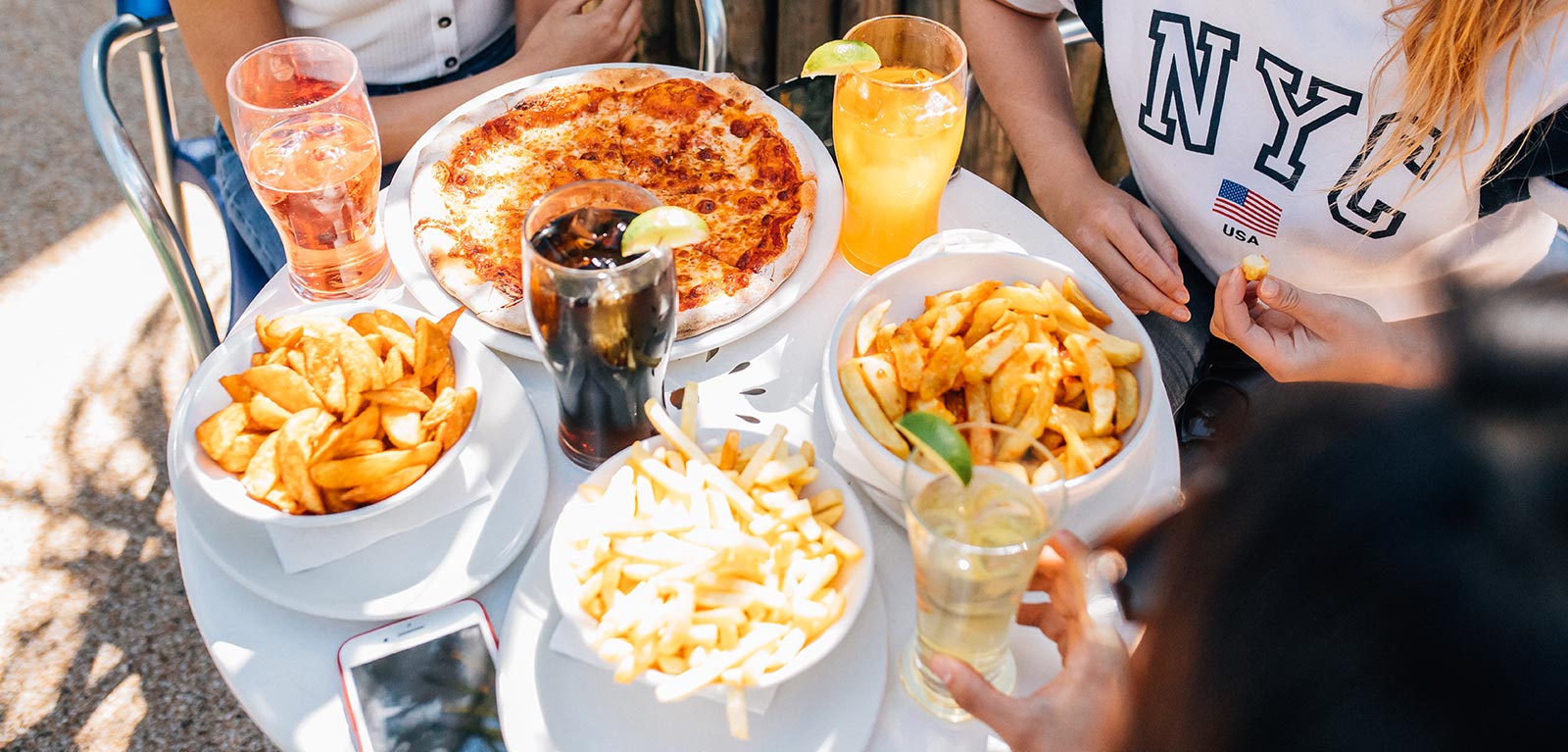 As a student you'll always be looking for things to do in and around Belfast that don't break the bank. However, when it comes to food, this can be a tricky one. Here's my guide on the best places to eat in Belfast when you're on a student budget:
Queen's Student Union Bar (The Speakeasy)
The obvious choice, Queen's student union bar is my top recommendation for fun, food, and drinks when you're on a budget; and as the new students union is currently being built and is due to open in the next term, it can only get better.
I know what you're thinking; cheap and good food don't often go together. However, I've been to the students union many times and the food is always great and super affordable. £4 for a tasty pizza? You really can't go wrong.
Paired with the cheap drinks and free daily entertainment, the Student Union Bar is a must visit.
Here is a copy of the menu with prices.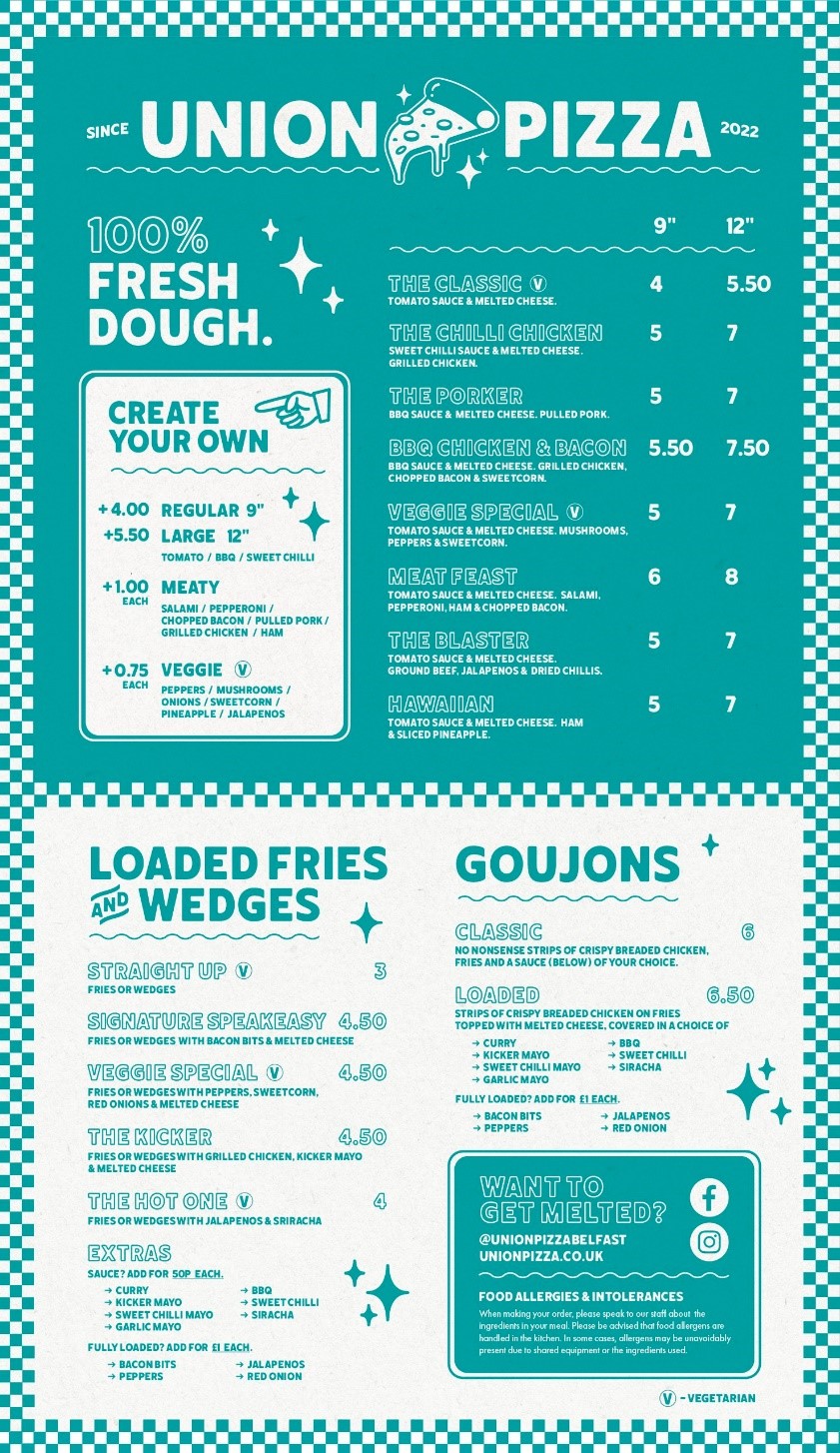 Food usually ends at 8pm so if you're planning to have a bite to eat before a night out make sure you get down early!
The Parlour Bar
Located to the side of the new Queen's Student Union in One Elmwood, The Parlour Bar is another good option.
Here is a copy of the menu with prices.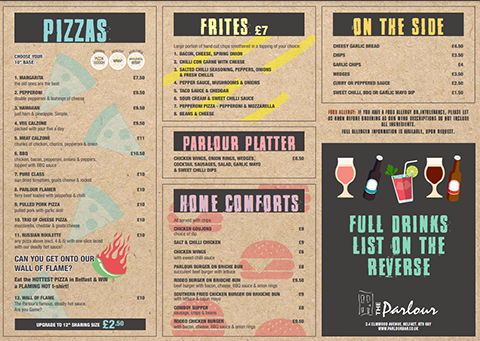 The Parlour Bar is my next favourite option after the Queen's Student Union Bar. The food and drinks are great and affordable. They offer £3 pizza 3pm-6pm Monday to Friday so it really is a must visit after a lecture.
They also have a rewards app, Kudos Rewards, where you can earn points with each order. You receive £2 off for each 100 points.
Boojum
This isn't necessarily the cheapest however it's definitely the most popular student food stop. Boojum have restaurants all over Belfast however their Botanic store is always the busiest during term time.
If you're visiting Boojum I recommend you use their app. This allows you to click and collect. You can beat the queues but also build up stamps. For every ten stamps you get a free boojum and once you reach forty you can get a free t-shirt. The ultimate student reward – wear one of these at a house party and you'll have everyone's attention!
Boojum sell burritos, fajitas, tacos, bowls, salads, nachos, quesadillas, and churros; and also have great vegan options.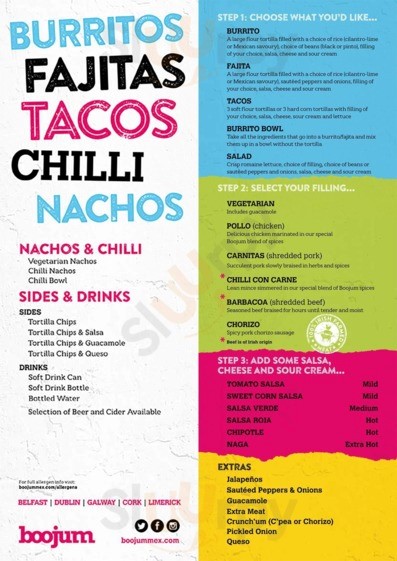 Maggie May's Cafe
This is another student favourite and must visit. With three cafes in Belfast, the most popular is the one just across the road from the main Queen's campus.
Maggie May's is a local family run chain of cafes that provides great tasting breakfasts, lunches, and dinners.
A great food stop in between lectures, for a lunch date or breakfast meet up.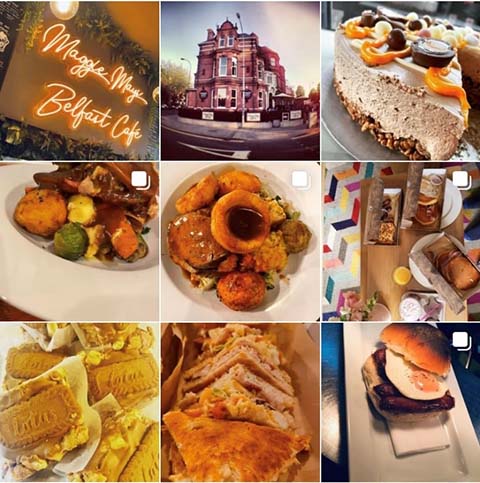 Student Discount
Alongside all my tasty affordable suggestions, it's also great to check out all the discounts and offers available to students. Most students use their discount for clothes and shoes and don't even realise the money they could be saving on food.
My two favourite places to check for student discounts is Student Beans and Unidays. You can sign up to both these platforms with your student email address and download the app to your phone. You can then use the search bar to look for businesses or see the top offers via the home page.
Some offers from StudentBeans and Unidays…
30% off Pizza Express
25% off M&S food on the move
35% off Dominos
Free Greggs sausage roll when you buy a sandwich
Free McDonalds burger or McFlurry when you buy a value meal
If you do some searching, you can also find businesses that offer discount outside of these apps. Lots of these are located near Queen's:
Wheelers offer students 20% off (This is a two-minute walk from the main Queen's campus and is gorgeous for lunch)
Frankie & Benny's 20% discount (Victoria Square)
Cosmo 10% (Victoria Square)
Pizza Hut 20% off
Yo Sushi 25% off (Victoria Square)
Little Wing 20% off (city centre)
Bootleggers 20% off (Church Lane, Belfast)
Del Piero's 10% (CastleCourt, they have the most amazing pizzas!)
Make sure you carry your student ID card and show this to staff when paying.
Too Good To Go
Too Good To Go boxes are also a great option. These aren't just for students however they're a great way to get some tasty food on a budget. Too Good To Go allows businesses to advertise food which is going to waste. You can then buy it and collect it from the business.
Boxes of food are always priced well, and this option means that you're helping to reduce food waste. I recommend you go on TikTok and have a look at what other people have received in their Too Good To Go bags. You'll really be surprised at how much you can get!
My current favourite is Tim Hortons. Its great if you're looking to go out with friends and snack on a budget. Their boxes are priced at £3.99, and we always get a pile of donuts and Timbits. Here are a few other businesses that use Too Good To Go in Belfast along with their prices….
Greggs £2.59
Auntie Anne's £5
Riley's Home Bakery £3.50
Sage £4.30
Caffe Nero £3.09
Malmaison £2
Arthurs Coffee House £3.39
Del Piero's £2.69
The Chaos Co £3
The Guillemot Deli £4.39
Brothers Fish and Chips £3.39
Whether you're helping to reduce food waste with Too Good To Go, using your student discount wisely or taking advantage of my recommendations; there's plenty of great food stops in Belfast for students on a tight budget.
Find out more
Claire Ford

Business Management with Placement Year | Undergraduate Student | Belfast, UK

I'm a 21-year-old based in Belfast. I have always had a passion for business and entrepreneurship which led me to business management at Queen's University. Alongside my studies I am an entrepreneur, content creator and blogger.