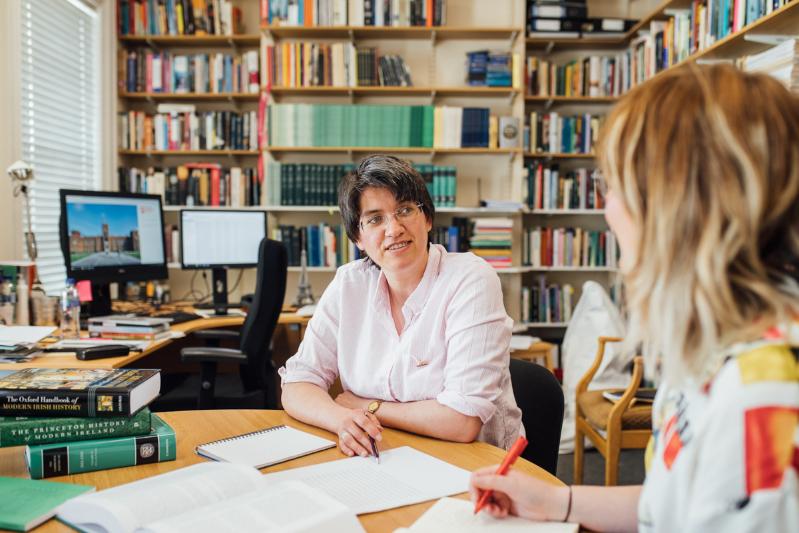 Thinking of applying to Queens?
Applying to university can be a daunting task, however, we want to be there to support you on your journey to education and help you achieve your goals. Below you will find lots of helpful information regarding applying, Student Finance, events and student support.
Queen's University, Belfast uses the HESA definition of mature students in that "undergraduates are classed as young if they are under 21 years of age on entry, and mature if they are 21 or over."
We particularly encourage applications from mature students, and we welcome on average approximately 800 new students every year. We understand the wide range of reasons why students may purse higher education later in life; some may have not been able to achieve their full potential in education due to personal, social or financial circumstances; some may wish to undergo a career change having discovered a new passion; and some may need extra education for their professional development.
Whatever the reason, we are here to support you.
Routes to university
Access routes
There is more than one route to university in Northern Ireland. Students can study a foundation degree, Access course or other higher education qualification at one of Northern Ireland's six further education colleges or other local institutions, which will help you progress to Queen's University.
The six colleges in Northern Ireland offer a wide range of Higher Education (HE) courses that are closely aligned with industry demand and run in conjunction with other top UK education providers.
Here is an example of a typical route. You start by studying a two-year foundation degree at a regional college, and, if you meet the entry criteria, you can progress to study at a university in Northern Ireland for a further two years and complete a full degree. Students can study a range of subjects via this route, from science subjects to humanities.
Example route:
Study a two-year foundation degree in Mechanical Engineering at Belfast Metropolitan College.
Meet the eligibility to enter Queen's at stage 2 of a BEng Honours degree in Mechanical Engineering, Aerospace Engineering or Product Design Engineering or go straight into employment.
Graduate with an Honours degree after two years of study at Queen's.
You can find more information about routes to university here.
Read more
Read less
---
UCAS
Students typically apply to university through the Universities and Colleges Admissions Service (UCAS) system. Some courses, such as Nursing or Social Work, may have additional elements to their application process such as an interview. Entry requirements, course content and career prospects are detailed on the Queen's Course Finder and it is important to read carefully the details of courses you may be considering, as they may have different entry requirements.
Read
You can view the full range of our undergraduate courses on our CourseFinder page here.
There is futher information about applying via UCAS here.
Watch
Watch Sandra Bloomer, Admissions Manager (Undergraduate and Postgraduate Home and EU), provide advice on applying to Queen's via UCAS here.
Ask
Our Admissions team are on hand to help answer any queries you may have about applying to Queen's. They can be contacted on admissions@qub.ac.uk.
Read more
Read less
---
Funding
Bursaries and Grants Information
Funding can be a concern for many students when considering returning to education. Below you will find information about the financial supports that are available.
Read
Watch
Student Finance Advisor Debbie Forsey reviews the key points of financing your studies in this video.
Ask
AdviceSU can help you with all the information you need and questions you may have about Support and Hardship Funds, grants, loans, fees, the financial impact of repeating a year or changing your course, social security benefits, and other general financial issues. To find out more, visit their website here.
Read more
Read less
---
Student support
Queen's recognises the challenges that adult learners may face in returning to education and there is support available to help them with the transition. We encourage all students to make use of these supports both before and after entering university to ensure they feel comfortable and confident beginning their studies.
Read
Every student at Queen's is assigned an academic personal tutor, who is your first stop for any problems or questions about anything course-related, including assignments.
Student Wellbeing Service are a team of Wellbeing Advisors who offer a comprehensive range of support services which are accessible, flexible and responsive.
The Student Disability Service aims to to provide prospective and current students and staff of the University with appropriate information relating to disability issues, and to outline the relevant resources and services available at Queen's.
The Learning Development Service offer one-to-one appointments for students to help with critical thinking, essay writing and referencing. They also have a range of resources available on their website.
Our Careers team can help you set career goals, communicate with employers and equip you with the skills you need to stand out in the competitive global job market.
The Students' Union are led by students, for students, and are there to represent you and your views, and help you get the most out of your time at Queen's. Furthermore, within the Students' Union there are the Mature & Part-time Students' and Parents' & Carers' Officer who are also available to answer queries and support you on your journey.
The Crèches at Queen's University offer a range of childcare support options for both staff and students.
Watch
You can hear more about the support at Queen's here.
Ask
Read more
Read less
---
Student life
Events and social opportunities
University offers a range of opportunities for students - both academic and socially. From clubs and societies to mature student groups, there is plenty of choice for everyone!
Read more
Read less
---