How to Manage Your Finances as a Student
Managing finances may often seem tricky for young adults who have just entered the University lifestyle, so here are a few tips from Malaysian student Darshana on how to make your life easier and save money.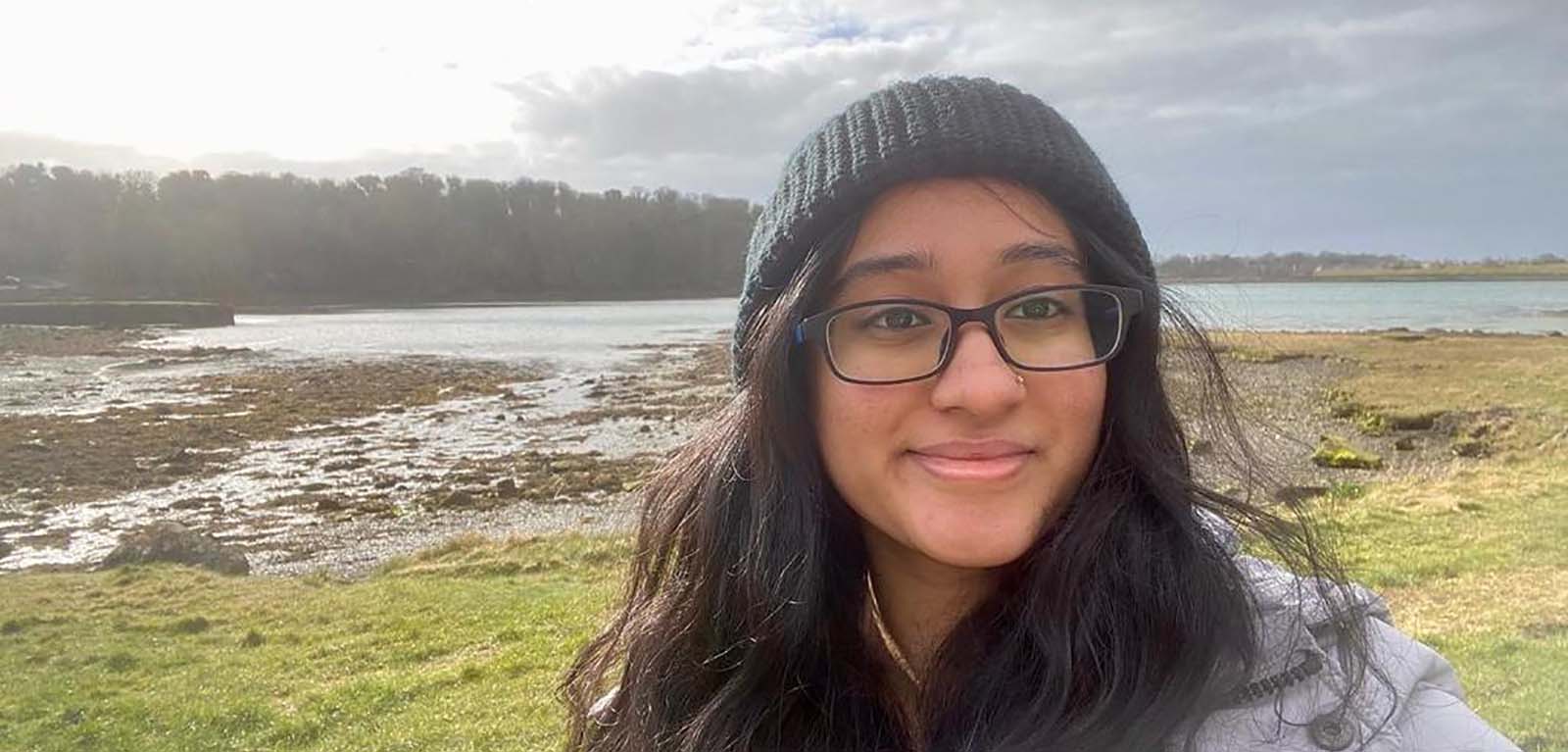 1. Plan your Monthly/Weekly Budget
The first step to managing finances is to have a fixed monthly or weekly budget. The budget should include the various foreseeable expenses and ensure enough money is set aside. Ideally, the budget should include funds for groceries, transportation and some additional allocations for emergencies or unforeseen expenses.
This is very important as it allows you to estimate your expenses and keep a portion of money aside for entertainment/leisure purposes. It will ensure you do not overspend and give you an overview of the estimated costs you need per month/week.
Once a budget has been set, the Herculean task for a student would be to follow it.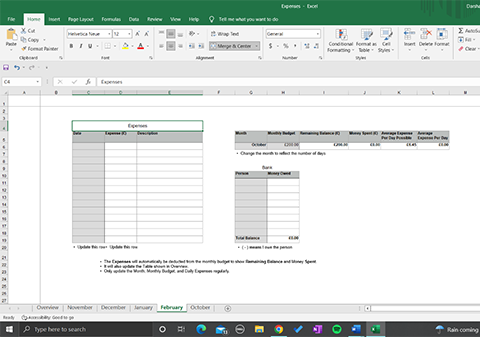 Darshana uses Excel to keep track of expenses
2. Keep Track of Expenses
A tried and tested method of staying within budget is keeping track of your expenses. It has been proven that tracking one's expenditure vastly lowers their cost. This can be attributed to the fact that you would be more aware of your spending and how much is left to be spent.
Additionally, you can review your expenses at the end of the month to determine if you can cut costs in certain areas such as eating out less or shopping for groceries at a cheaper place.
However, keeping track of expenses does not mean writing them on a piece of paper and forgetting about them!
It could be done by typing all the day's expenses into a spreadsheet at the end of the day or using applications available on smartphones, i.e Emma, Spending Tracker, Monefy etc.
These applications greatly simplify the planning and tracking of your budget and have many other quirky features that can educate students on finance. But, if you opt to go the classic spreadsheet way, a simple one would do, or you could put those expert skills to make a highly functional one. It would also be a good idea to keep all the receipts to ensure you did not miss out on anything.
An example of a spreadsheet I use to keep track of my expenses is below. It is divided into several categories and allows me to keep track of all of my expenses for that particular month.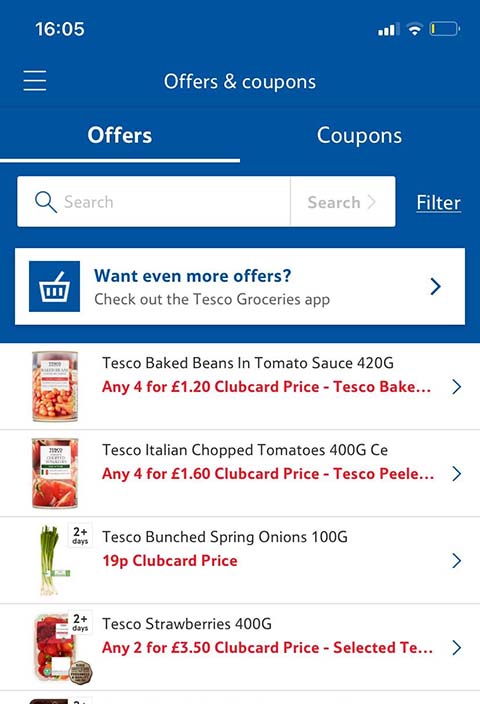 Save money with a Tesco clubcard
3. Opting to Eat In rather than Eat Out
It should be of no surprise that cooking at your student accommodation is far cheaper than eating out on a daily basis. The Elms Accommodations provide rice cookers, kettles and stoves. Combined with the kitchen pack that can be optionally purchased, any student can be a chef!
Luckily, Belfast is generally known as an affordable place to live as you can find fresh ingredients at places such as St George's Market for low prices. Alternatively, Lidl and Tesco are good places to shop for groceries on a budget.
In addition, these stores have membership/Clubcard services that provide additional savings to customers. Students should remember to download these applications and register for free memberships that inform them of sales and gives cash back for buying certain items.
Lidl: Download the Lidl Plus app, which provides several discounts which vary according to the week. There is also the scratch to win feature, which gives you a free item every time you scan your Lidl Plus app when purchasing groceries in the shop. Who wouldn't want free biscuits or chocolates? Claim those freebies!
Tesco: The Tesco Clubcard helps reduces a significant portion of the prices of the groceries bought in Tesco. You would be surprised at how much the difference is!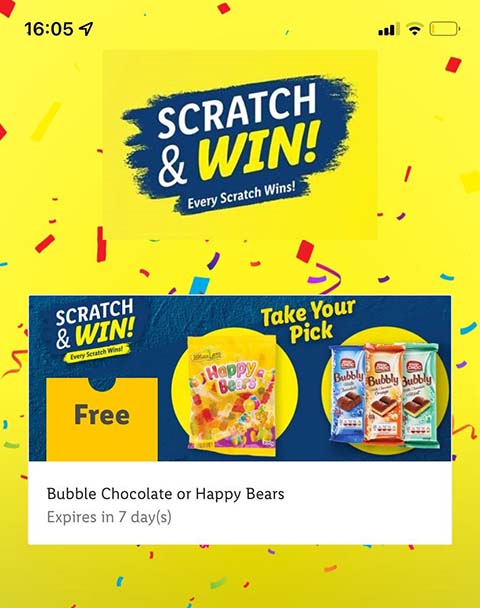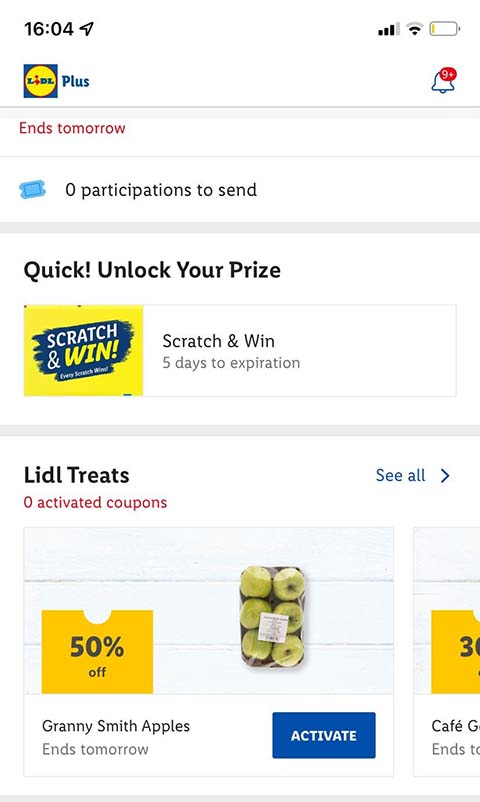 The Lidl app gives you prizes and special offers
4. Make use of Banking App Features
There are multiple banks that international students may use when they arrive at Belfast. For example, Starling Bank, Monzo, HSBC etc. A useful tip would be to make use of the specific banking app features provided for your benefit.
Personally, I am using Starling Bank as it was the easiest to open, and the process was entirely online, which was convenient during the covid period. One of the most useful features of the Starling Banking app would be the 'spaces' feature. It allows me to allocate specific amounts of funds under spaces which enables me to keep track of how much I am saving and how much funds I have left for that particular expense. This enables the user to view the money in the account in spaces and not just grouped into one total amount.
Make sure to explore your banking app and learn more about the features provided.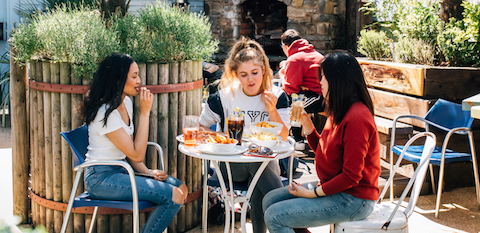 Take advantage of student deals
5. Find the best deals
There are some days when you just want a break and would like to grab some food outside instead of cooking. On those days, remember to find the best deals by making use of apps such as 'Too Good to Go'. This app provides a number of restaurants and bakeries in Belfast which give away their food for a lower price in the evenings to avoid food wastage. Examples of excellent deals we've gotten previously were a big box of doughnuts and Timbits from Tim Hortons and many goodies from Auntie Annes.
It is also noteworthy that M&S has reduced prices on foods that are going to expire soon. This is a good source to get desserts and fruits for a very low price!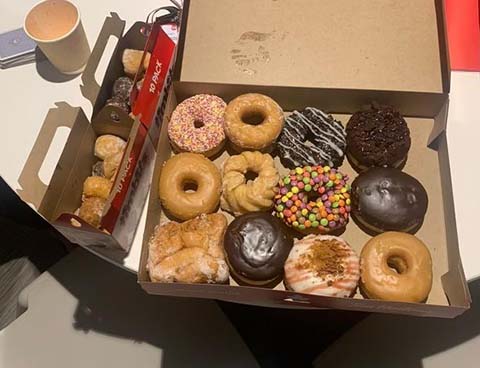 Use apps to get cheaper Tim Horton's
6. Save Wherever Possible
The last tip would be to save wherever possible! This would include simple stuff like walking instead of using uber/public transport to nearby places.
Another tip would be to cut out store-bought coffee, snacks and sandwiches whenever possible, as it's always best and cheaper if you make it yourself! If you have a group of friends, you can always cook together and even reduce grocery costs as buying in bulk may reduce the prices significantly.
However, remember that you shouldn't forget to eat healthy as there is no point compromising health over budget.
Finally, don't fret too much over finances and budgeting as your university life is supposed to be filled with fun and new experiences! Live life and make sure to use the saved money to spoil yourself with a trip or new goodies every now and then.
Find out more
Blog: Belfast on a Budget
Darshana Araventhan

Law | Undergraduate Student | Malaysia

I am a 3rd-year transfer student from Malaysia doing my final year of Law degree at Queens University Belfast. I live in the Queen's Accommodation Elms BT1 at Belfast City Centre, which is convenient as there are many amenities nearby. Apart from attending classes and studying, I love trying out new recipes and cooking for my flatmates. I also enjoy travelling during the holidays and have visited several places in Northern Ireland during my stay here. I hope you enjoy and find my blogs useful during your time at Queen's!