How the GB Scholarship has Benefited Me
Peter is just one of the many students who currently benefit from a Scholarship at Queen's. He's sharing all the ways receiving it has helped him during his time at Queen's.

I'm a Third Year now but back when I was busy making my uni decisions I can remember how confusing it felt. However, one reason I put Queen's as my first choice was the GB Scholarship. It really stands out among scholarships at other universities. As long as you achieve your target grades and put Queen's as your first choice, you'll qualify for it! Here's how it has helped me over the years.
Tuition Fee Loan
Uni life is amazing and opens so many doors to you; however, it does involve a bit of a financial outset. The GB Scholarship helps to lighten that load a little bit. Depending on the grades you get, it can take off up to £7,500 of your tuition fees. For me, I've taken the fee discount of £1750 a year, plus the benefits package. This means that when I come out of uni, I'll have a little less on my Student Finance loan!
Makes you Work Harder!
When I put Queen's as my first choice, my offer was ABB. I knew, though, that if I managed to get AAB then I'd get a little bit more off my tuition fees with the GB scholarship. This gave me an added incentive to work as hard as I could in my A-Levels to do as well as possible. It also made sure that I wasn't too complacent, which is never a good idea!
Money for Flights
It's not just money off tuition fees, you actually get cash-in-hand style benefits. One particular part of the scholarship that has really helped me has been the money for flights. At the start of each year, you're given £280 in a cheque which you can use for all your travelling to and from home. With flights being so cheap, you can book a fair few flights with this amount meaning you can justify coming and going as much as you like!
Moving Over
Worried about moving over to Belfast? Don't worry, the GB Scholarship really helped me make the move. You're given £61 to transfer all your luggage over with Royal Mail so you don't end up stuffing everything into a suitcase for the flight over. Also, don't be bringing your pots, pans and bedding over. When you arrive at the accommodation, you'll be handed a kitchen and bedding pack full of goodies to get you started.
Ensuite Room
Having moved into private accommodation, I no longer have an en-suite room, and let's just say I dream back to the days of my own little bathroom at Elms BT9. Enough said! The GB Scholarship gives you a free upgrade to an en-suite room, which saves you £18 a week, so it's a decent money saver too!
Gym Membership
Anyone who knows me will tell I am not at all sporty. It could, therefore, be said that I waste my free gym membership with the GB Scholarship. An off-peak gym pass would normally cost you £15 a month, so getting three years of that for free saves you a whopping £540. There are tonnes of classes to do as well in the Queen's Physical Education Centre – here's an A-Z blog I wrote to really prove it!
Free Cinema Pass
I may not be sporty but I do like a good trip to the cinema. The Queen's Film Theatre is right in the middle of campus and as part of the GB Scholarship, you get 27 free tickets each year, and you can buy your friend's tickets with it as well making you the popular one! It also means that every time you want to see a film, you don't need to head into town where you'll pay a small fortune!
Overall, the whole GB Scholarship helped to make the transition over to Belfast that little bit easier and I'm very happy I put Queen's as my first choice to get the scholarship!
For more information about the GB Scholarship and how to qualify for it check out their website here.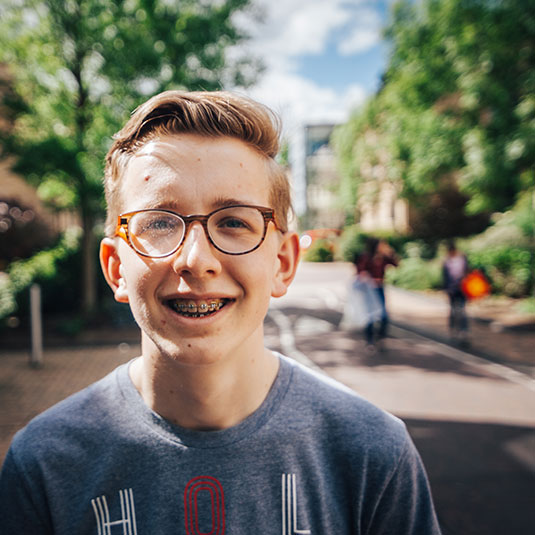 Peter Moor
Student Blogger, BA English and Linguistics