Supporting your future
Gateway to an International career
Expanding horizons, creating global citizens
As a student at Queen's, you'll gain skills and knowledge valued by employers all over the world. Whether you plan to pursue opportunities here in the UK, or further afield, our specialist career resources and international network can take you anywhere.
BUILDING A GLOBAL COMMUNITY
We support all our students in their personal and professional development throughout their time at Queen's and beyond. We'll help you market yourself to potential employers through workplace study tours, international summer internships and our employer-sponsored skills award, Degree Plus.
Through our dedicated careers support service, you'll get the opportunity to gain study and work experience in the UK, Europe and across the world.
We'll support and advise you on: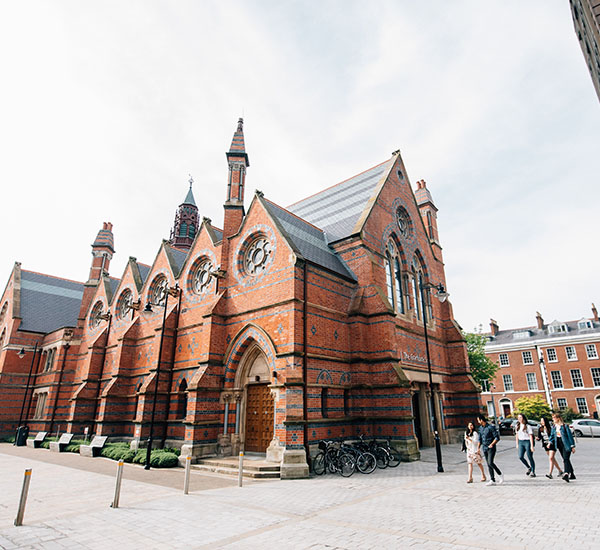 Tailored career development programmes
Our Graduate School is an incubating space for future leaders with professional skills coaching, leadership workshops, employer-lead challenges, social enterprise projects and Chartered Management Institute (CMI) accreditation available to all postgraduate students.
We'll help you refine your CV, presenting and interview skills, and connect you with business leaders through employer networking events and activities. You'll get the opportunity to commercialise your research; pitch to high-profile stakeholders and transform your knowledge into action with real-world impact.
CONNECTING YOU WITH EMPLOYERS
Many employers hire graduates that they already know, so you'll reap the rewards of our industry links.
Employers attend on campus at regular intervals for Careers Fairs, Employer Panels and other skill development sessions, supporting early student engagement. Our placement and internship programmes also offer insight into how businesses operate, preparing you for the world of work.
Queen's is working in partnership with local, national and global industries.
Strategic corporate partners include; Seagate, Bombardier, Petronas, Infosys, Almac Group.
'I met my employer via a university event'
Queen's alumni network in China is the biggest outside the UK and Ireland with many of our graduates going on to enjoy successful careers in finance, management and process engineering.
'I stood out to my boss at an employee competition at Queen's'
Queen's MBA graduate Wangchen Liu from Hunan in China now works in Dublin, as a commodity trader at Susquehanna International Group, LLP (SIG), a global trading and tech firm.
"During my MBA, I benefited from many visiting speaker events including a trading competition organised by SIG. We also had the opportunity to visit businesses around Northern Ireland including PwC and Northern Ireland Water. The university hosts a number of Careers Fairs throughout the year, providing the opportunity to meet recruiters from local, national and international companies."
"While at Queen's, I did a summer internship at Bloomberg. I spent five weeks in Beijing as an Analytics intern and five weeks in Shanghai as a Sales intern, which really expanded my exposure to the real financial market and Bloomberg products. After the internship, I was returning to Belfast, when I received the call from HR offering me a full-time role. I was so happy that I got my dream job before I graduated." Rory Cao, China
MSc Finance, Financial Analyst at Bloomberg

'Queen's gave me the skills to lead'
Hundreds of Queen's alumni have returned home to India to impact all aspects of society – from university vice-chancellors to business and industry leaders through to journalists and policy makers.
They include honorary graduate Sir Mark Tully, who worked for the BBC in India for over 30 years, and Tara McCartney, BA Anthropology and Philosophy, who is an NGO Director with Shakti Empowerment Solutions in Delhi.
Almuna Anshu Valecha, MSc Educational Leadership, is now based in Shanghai and works at world-leading international education company, Education First.
"Having taught for 17 years in India, I was looking for a leadership position in education and Queen's MSc in Education Leadership offered all the components I needed to fill my skills gap. During the course, I worked in a secondary school in Northern Ireland."
Hear more from Anshu.
'I learned how to harness the power of my network'
With almost 2,000 alumni, Malaysia has a large number of Queen's graduates in senior leadership positions, such as veteran politician Tengku Razaleigh Hamzah and Lee Hui Seng, Director at Reinforced Earth Malaysia.
Queen's Engineering graduate, Dato' Lim Si Boon, who oversees the operations of Tenby Schools, Malaysia, was honoured by Queen's with a degree of Doctor of Social Science for services to education.
"My Queen's education equipped me not only with knowledge and skills in engineering, it also nurtured my ability to adapt and learn, and to transfer that learning to make an impact in education. It taught me to persevere with an idea and to harness my network to make a positive impression on the community of teachers and students in Malaysia."
'Queen's gave me the confidence to present my ideas internationally'
Currently, there are over 1,200 Queen's graduates based in the US, living and working across all 50 states.
Our US alumni include Paul Murphy, CEO and Founder at 3 Advance in Washington, who studied Electrical & Electronic Engineering at Queen's; Hilary Tuohy, a New York-based financial expert at Lumina and Queen's MBA graduate, and Erin Lynn, New York-based poet and teacher and Queen's graduate.
Kristen Nielsen Donnelly, Doctor of Philosophy PhD (Sociology), is now Executive Vice President of Abbey Research in her native Philadelphia.
"At Queen's, I was involved in leadership at the postgraduate school; I was encouraged to publish; I attended workshops on the best way to publish and I was able to present at prestigious conferences throughout Europe. That gave me a great deal of professional development that was incalculable."
Discover how we'll enable your future success.