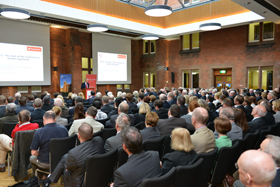 Audio Visual Services (AVS) may provide conference support as a costed service, however this is subject to staff availability and university teaching support commitments. University staff who are organising conferences should get in touch with AVS at the earliest opportunity to discuss both technical support and equipment needs.
If you require a support website for your conference (which includes a shopping basket and e-commerce environment) Information Services can provide this as a costed service.
Using the Service

Whether you plan to use the permanently installed Audio Visual equipment present in many of the teaching rooms or booked equipment, it is your responsibility to ensure that you know how to use the facilities. You can also stream the conference using various digital formats.

If you are unsure how to operate the equipment please contact the Technical Support Team in advance and they can demonstrate it for you and advice on best practice. The Technical Support Team can be contacted on 6499.

The charges for technical support and equipment may vary due to market forces, but are based on the following broad guidelines. There will also be a charge for a conference website.

Technical Support?For ALL courses and conferences technical support will be charged at £25 per person/hr 9am to 5pm Monday to Friday with additional weighting for evening and weekend cover. The Technical Support Team can be contacted on 6499.

How much will it cost for...

Equipment?
Courses and conferences organised by outside agencies will be charged for all equipment used with the prices based on current commercial rates in the Belfast area.

Fee paying courses and conferences organised in association with a recognised university school or department will be charged 75% of the commercial rate.

Delivery/set-up/collection of equipment off university premises will incur an additional fee based on location and set-up time. To receive advice or book equipment, email avs@qub.ac.uk
A Conference Website?
Email adm.support@qub.ac.uk, highlighting your specific needs for the website. You will then receive a quote from Information Services.

Getting Support

Support can range from providing advice to offering full technical support for events.

We can provide training in the use of the centrally booked teaching rooms, which includes use of the Queen's networked computers and wifi connectivity.

All teaching rooms have a:

Fixed networked PC with Office 2010 applications (i.e. Word, PowerPoint, Excel)
Data projector or plasma screen
PA system
DVD player
Microphones (if required)


Note: There is also inbuilt provision to connect a user's laptop to the system (Apple users must provide the appropriate adapters).

If your conference is being organised through Eventus please contact Eventus for login details for your delegates - these log in details will provide permit access to the various computer labs throughout the campus, allowing guests to access their email accounts, etc. Information about Conference WiFi for your delegates.

For support in creating a conference web site, email Information Services at: adm.support@qub.ac.uk

Related Services

If you organising a conference, you may also be interested in the following related services:

Note: For further information about organising a conference at Queen's, visit the Eventus website.