Printing, Copying and Scanning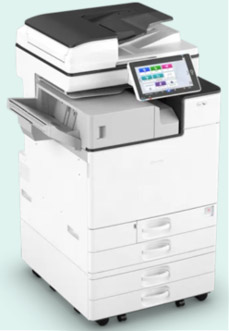 About the Service
Information Services (IS) provides printing, copying and scanning facilities, in full colour and black & white (mono) across campus.
Known as multifunctional devices (MFDs) they are available in all student computing areas, typically the libraries and Peter Froggatt Centre (PFC) and in selected staff areas. All library and PFC MFDs are colour capable.
Undergraduate and PGT students pay for printing and copying, scanning is free of charge. UG and PGT students must have sufficient credit on their PaperCut account before they can access the service. Any MFD can be used by staff or students.
In line with Queen's sustainability targets and Queen's Sustainable Print Policy all MFDs default to double sided (duplex), and black and white (mono) when printing.
Queues at the MFD? You can collect your print job from any accessible MFD across campus.
Using the Service
The first time you go to use an MFD you need to register for the service.
To use the service, you will need:
your University (ID) smart card* and
only if a UG or PGT student, credit in your PaperCut account
Simply present your smartcard to the card reader (as pictured) located to the top right of the MFD and you will be prompted to enter your user id number (seven digits long) and QUB logon password – the same one used to access Queen's Online, Canvas etc.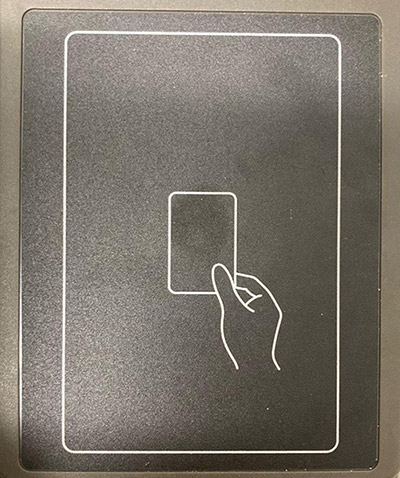 *If you have forgotten your smart card you can login by manually entering your user id and logon password on the touchscreen as shown.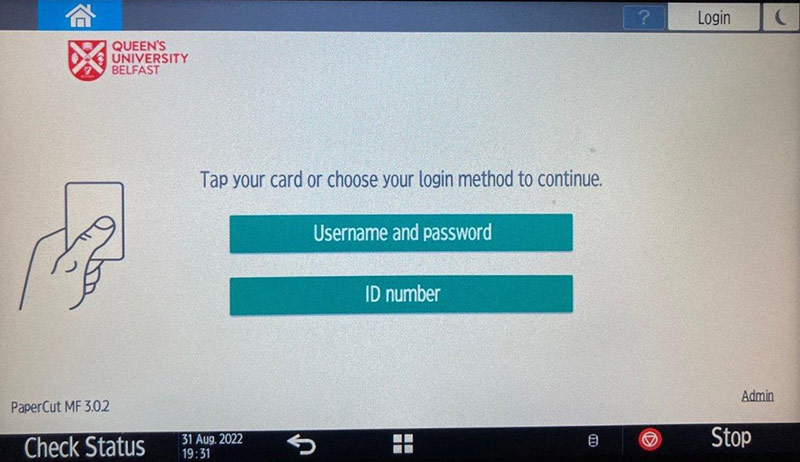 For UG and PGT students, payment for using the device to print and copy is debited from your PaperCut account. To add credit please access PaperCut and follow the onscreen instructions.
Note: you will be unable to release print jobs or copy documents unless your PaperCut account has sufficient credit.
Need Help?
Staff - Please contact your Departmental Print Champion (DPC) - downloads an Excel worksheet. Students - Please contact your School Computer Officer, if you are in one of the libraries the IT Service Desk can assist.
Last updated November 2022