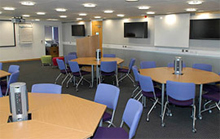 Contact details for any Timetabling and Room Booking queries are available on the Timetabling and Room Booking website.
Visit the Audio Visual (AV) Support section if you have any queries about the AV equipment etc.
Information Services (IS) and the Centre for Educational Development (CED) are also available to provide support in using the flexible teaching spaces.
Contact David Robinson (IS) if you have any questions about using the Personal Response System (see also the Interactive Leature Theatre section).
Contact Gill Kelly (CED) for advice on how best to use the flexible teaching space for your classes (see also the CED website).