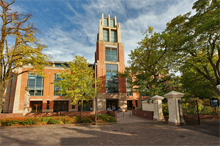 Staff: All staff IT training courses are free of charge. To book an IT training course:
Log into Queen's Online
Click on Other (below the heading Services)
Click on the Training Courses link

Note: When you have booked an IT training course, you will get instant confirmation or you will be placed on a waiting list. Staff should also note the following:
Check out the latest Course Titles and Descriptions
Course Dates for AY 2013-14 [1-page PDF]. Note: Courses are advertised in the University's weekly roundup and on the Staff Training and Development Programme web pages.
Duration: The majority of the courses include demonstration and practical work and come with high quality documentation; courses vary in length from one hour briefing sessions to one day's training. The most popular courses are offered several times each academic year.
Schedule: The courses are delivered during both semesters. By arrangement courses can be provided outside this period.
Minimum Numbers: A course may be cancelled up to a week in advance if enrolment is less than the minimum.
Venue: Courses are delivered in the state-of-the-art training suites in the McClay Library. The McClay Library is A on the following map.
Course Pre-requisites: Each course lists pre-requisites. It is essential that advice about pre-requisites be followed to ensure maximum benefit from course attendance. Please contact us if you any queries regarding pre-requisite skills for courses.
Course Request: If you have a request for a course on an IT topic not covered in the programme or wish to have a course provided for your unit, please contact us (details below).

Postgraduate Research Students: Please read about the Postgraduate Researcher Development Programme on the Postgraduate Centre website. Registration for IT Courses must be completed via Qsis.
If you have any queries, the contact details for the IT Training and Assessment Unit are as follows:
Email: itcourses@qub.ac.uk, Telephone: (9097) 6189
Address: IT Training and Assessment Unit, Information Services, The McClay Library, 10 College Park, Belfast BT7 1LP