Library Special Collections
The Service is for
Staff, Students
Service Description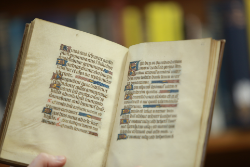 The Special Collections service at Queen's provides access to the Library's rare and early printed book, map, and manuscript collections, as well as to more modern material relating to Ireland and Ulster in particular. Digital Resources provides access to our blog, digitised material, online exhibitions and more.
The books, pamphlets, manuscripts, correspondence, photographs, and maps held in Special Collections are considered to be of lasting research value and include examples of the earliest printed works (incunabula), and books and pamphlets published between the 16th and early 19th centuries (STC and Wing items). In order to preserve the material for future readers these collections are housed in a secure and environmentally controlled setting.
The Special Collections Reading Room is located on Floor 1 of the McClay Library and provides a comfortable, dedicated space appropriate to the consultation of Special Collections material. Wireless internet access is available.
For full details of the collections we hold and the services we offer please visit our web pages: https://www.qub.ac.uk/specialcollections
Contact Details
Users can contact the Special Collections as follows:
Users can contact Special Collections staff in person during staffed service hours by visiting the Enquiry Desk on Floor 1 of the McClay Library.
Additional Support Information
1st December to 29th January, Exam preparation and Exams
1st May to 8th June, Exam preparation and Exams
Weeks 2 and 3 August, Resits
To facilitate these critical times, the Library provides extended opening hours. Details of opening hours can be found at http://go.qub.ac.uk/openinghours.
Library Services is committed to providing high quality library services and resources in support of the education and research activities of the students and staff of the University and of our other customer groups. Standard response times to all requests are [insert link].
If the agreed response times are not met, the escalation points are as follows:
Level One escalation
Deirdre Wildy, Head of Special Collections & Archives
d.wildy@qub.ac.uk Tel +44 28 9097 6218
Level Two escalation
Jane O'Neill, Assistant Director (Library Services)
j.oneill@qub.ac.uk, or Tel. +44 28 9097 6322